Baja Sea Kayak Expedition Briefing 
Our sea kayak expedition to Baja, Mexico, takes place in the Sea of Cortez, also known as 'The Worlds Aquarium'. 
One of the most diverse seas in the world, with inhabitants including blue whales, humpback whales, grey whales, killer whales, dolphins, manta rays, mobula rays, squid, octopus, sea turtles, sea lions and an almost endless list of fish and other sea creatures.
Of course, wild animals are unpredictable and there are no guarantees of what we may see. That's why we focus on quality time amongst nature, enjoying the breathtaking scenery and an escape from the hustle and bustle of modern life.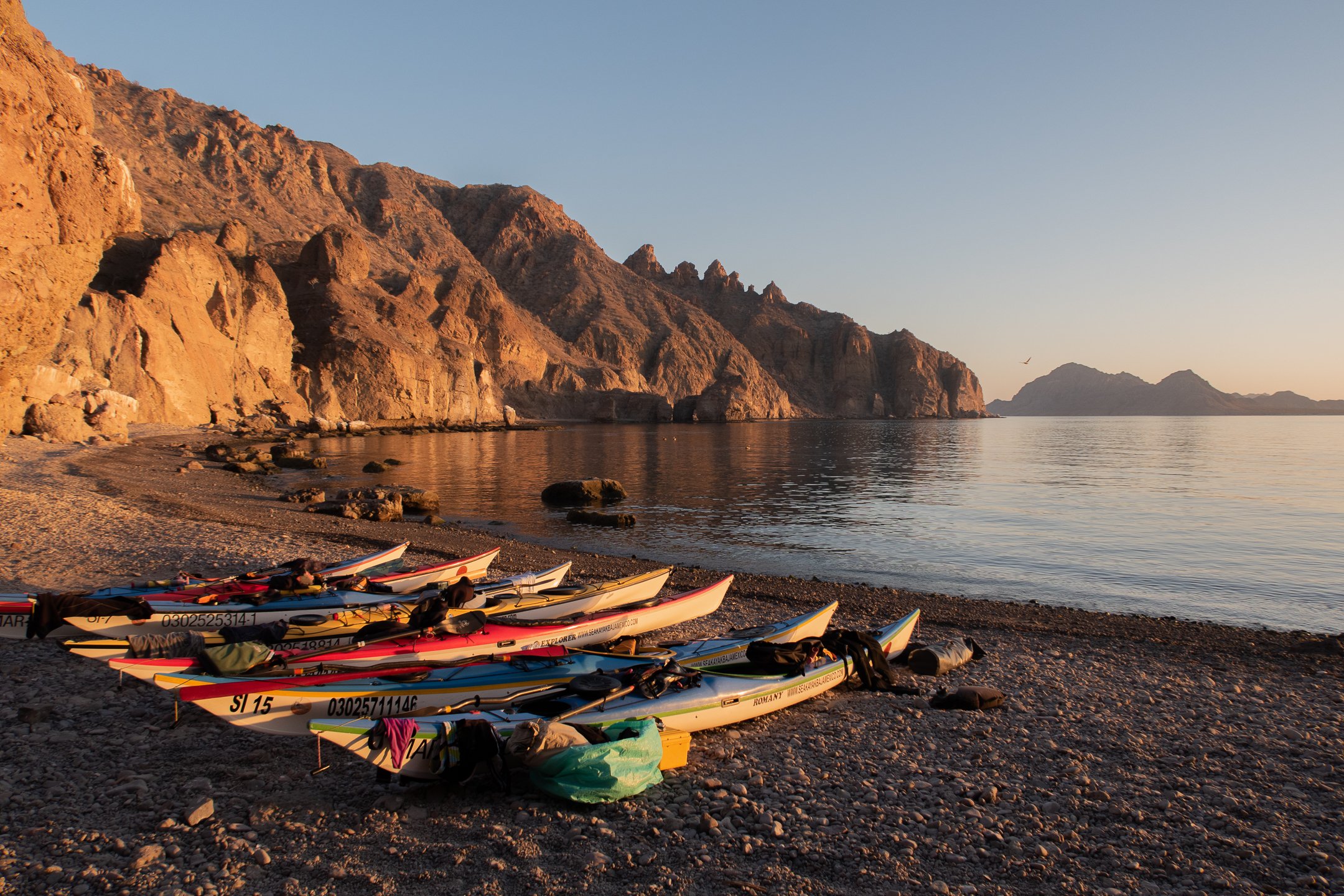 All we have to do is relax and dig our toes into the stunning white sand beaches, escape the heat in the refreshingly clear turquoise water and indulge in delicious, healthy, Mexican cuisine. We'll be kayaking between islands and camping on the beaches.
The sea kayak is the ultimate way to connect with nature. We move harmoniously with our surroundings, peacefully paddling from campsite to campsite. The boats will have everything we need to make the trip as comfortable and tranquil as possible. 
The total trip length is 8 days (airport to airport), 6 of which will be spent sea kayaking.
This trip is suitable for beginner-intermediate kayakers with an adventurous spirit. There are also opportunities for more experienced kayakers to continue paddling after we have set up camp, exploring further and working on their personal kayak skills. 
We intentionally head out towards the end of the kayak season. This quiet period means they'll be hardly anyone else out on the water, and we are perfectly in the sweet spot where the winter storms have passed yet the summer heat wave has yet to begin. 
Why Choose Us for Your Baja Mexico Sea Kayak Expedition?
Global Shenanigans human form, Chris, has spent his entire adult life as an outdoor industry professional. His career has taken him from the Far East, Europe, Africa, and North & Central America.
Chris will handle your booking, answer your questions regarding the trip/preparation, meet you at the airport AND be with you every step of the way during your paddle. This unparalleled service can only be found with Global Shenanigans. 
Chris and an experienced local guide will lead the Baja sea kayak expedition together. This brings a wealth of knowledge and experience to the trip. Our local partners shall be providing high-quality equipment, good wholesome food and expert guidance to help us safely through the expedition!
Chris is an accredited British Canoeing Sea Kayak Leader, Level 2 Paddle Sports Coach, White Water Rescue Technician and Wilderness First Responder. Additional guides will be of the same certification or higher.
All measures are taken to make this trip as comfortable as possible, allowing you to put your feet up, sit back and enjoy your holiday. 
Included
guides
kayak equipment (paddle, kayak, spray deck, snorkel)
camp equipment (tent, sleeping pad, sleeping bag, chair)
hotel accommodation (2 nights total)
meals during kayak days
airport transfer
Dates & Prices
April 23 – 30 2024
Baja Sea Kayak Expedition $3200 USD
A deposit of $500 is required to confirm your place, with final payment due 3 months prior to departure.
Information on the best adventure travel insurance
Ready to Say 'YES' to the Trip of a Lifetime?
Follow the link above to get your place booked right now!
Or use the text box below to reach out with any questions, to book a call or to arrange a private group trip to Belize.
Global Shenanigans
Average rating:
2 reviews
May 20, 2023
Baja blast!
All wish list items checked off on this all inclusive trip with Chris. Great weather, great scenery. The wild life was surreal, we saw dolphins EVERY day, and not just one here and there, huge pods of them hunting for dinner as we swam among them! Most importantly the people were top notch. From our guides Ramon and Chris, to our new friends from PA, we were lucky to share an amazing trip! Oh yeah, the kayaking around multiple islands in near perfect conditions wasn't bad either! 😉 Thanks Global Shenanigans!
May 3, 2023
Incredible experience
I had an incredible experience on Global Shenanigans Baja Expedition. The guides were first-rate. With their knowledge and expertise, you are in good hands from start to finish. The Mexican cuisine was over the top, delicious, and healthy. They extend every effort to ensure the success of the expedition. And boy, did they deliver! The wildlife we encountered exceeded all expectations. It's never a given that you'll experience the level of nature we had on this expedition, but they work tirelessly to put you where you need to be to provide you with the best opportunity to do so.