Belize Sea Kayak Expedition Briefing 
The relaxed Caribbean vibes, palm tree-laden islands, serene beaches, abundant wildlife and the lure of the mainland jungle make Belize the perfect destination for a multi-day sea kayaking adventure.
Belize is safeguarded by the impressive Belize Barrier Reef, the second largest in the world. The reef runs the length of the country and offers habitat for many fish species, as well as rays, turtles and manatees amongst the mangroves.
Six days of sea kayaking through crystal-clear turquoise waters, between 5 islands, camping under a star-studded sky and exploring the vibrant culture of the Cayes.
No trip to the hidden gem of Central America is complete without experiencing the rainforest, which is why our first night will be spent at Bocawina Rainforest Resort, with a guided wildlife night hike and early morning birding.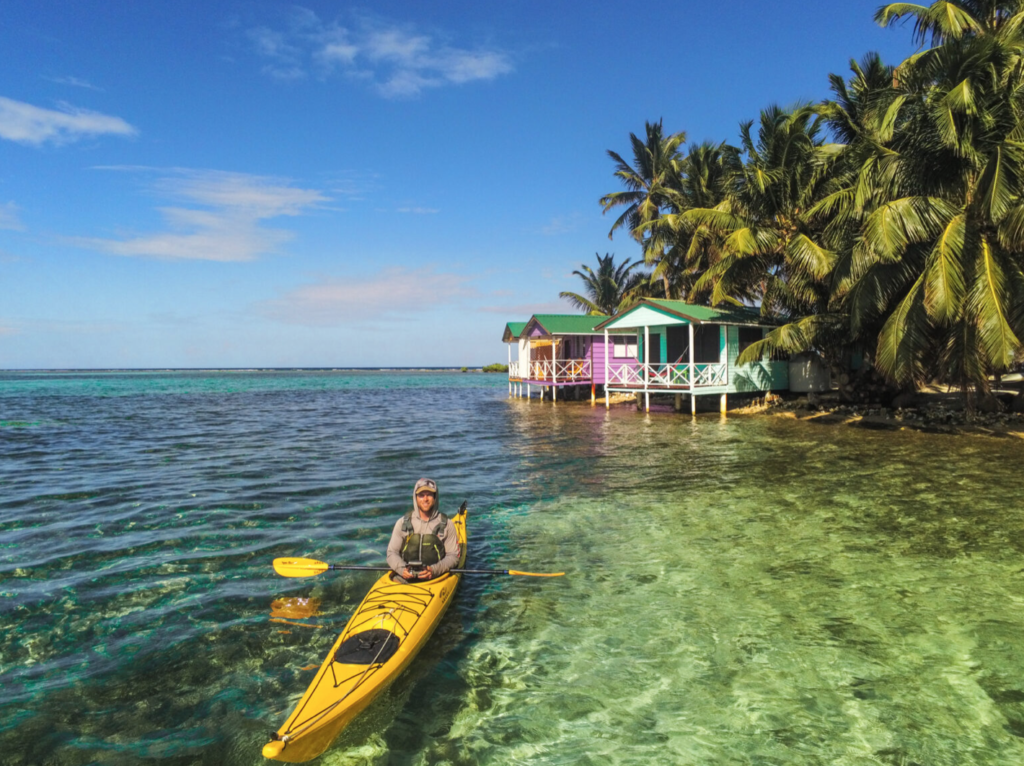 Plenty of time to take it easy, go slow, hang out, chill out, listen to waves crash, read a book and snorkel amongst the corals. You'll leave feeling so laid back your basically be on the ground! 
Adventure, exploration and relaxation are on the menu for Belize. As well as delicious Belizean and Creole food served up in healthy and hearty portions. All taken care of for you, of course. 
The sea kayak is the ultimate way to connect with nature. We move in harmony with our surroundings, peacefully paddling from campsite to campsite. The boats will be loaded with everything we need to make the trip as comfortable and tranquil as possible. 
The total trip length is 8 days (airport to airport), 6 of which are spent kayaking. 
The Belize kayak adventure is suitable for beginner-intermediate kayakers with an adventurous spirit. There are also opportunities for more experienced kayakers to continue paddling after we have set up camp, exploring further and working on their personal kayak skills. 
Why Choose Us for Your Belize Sea Kayak Expedition?
Global Shenanigans human form, Chris, has spent his entire adult life as an outdoor industry professional. His career has taken him from the Far East, Europe, Africa, North & Central America.
Chris will handle your booking, answer your questions regarding the trip/preparation, meet you at the airport AND be with you every step of the way during your paddle. This unparalleled service can only be found with Global Shenanigans. 
The Belize Sea Kayak Expedition is co-led by Chris and an experienced local guide. This brings a wealth of knowledge and experience to the trip. Together we have created a fully customised itinerary to provide the ultimate Belize adventure tour. Our local partners provide high-quality equipment, good wholesome food and expert guidance to help us safely through the expedition!
Chris is an accredited British Canoeing Sea Kayak Leader, Level 2 Paddle Sports Coach, White Water Rescue Technician and Wilderness First Responder. Additional guides will be of the same certification or higher. 
All measures are taken to make this trip as comfortable as possible, allowing you to put your feet up, sit back and enjoy your holiday. 
Included
all food
guides
kayak equipment (paddle, kayak, PFD, spray skirt, snorkel) 
camp equipment (tent, sleeping pad, sleeping bag)
all accommodation
(1-night Bocawina Rainforest Resort, 1-night Paradise Lodge cabanas) 
transfers both land and sea 
domestic flights 
park fees 
Dates & Prices
May 4 – 11 2024
Belize Sea Kayak Expedition $3250 USD
A deposit of $500 is required to confirm your place, with final payment due 3 months prior to departure.
Information on the best adventure travel insurance
Ready to Say 'YES' to the Trip of a Lifetime?
Follow the link above to get your place booked right now!
Or use the text box below to reach out with any questions, to book a call or to arrange a private group trip to Belize.
Trip Overview
Day 1 
After flying into Belize City, you'll jump on a 15min flight to Dangriga, a small port town further south. This small plane is an experience in itself and a great way to see the coast and Cayes (islands). 

I'll be at Dangriga Airport waiting for you. 

We'll then transfer over to Bocawina Rainforest Resort for our first night. This resort is within a national park and is home to all sorts of critters and creatures of the jungle. They'll be an opportunity for a guided night hike and early morning birding.

Overnight at Bocawina Rainforest Resort. 


Day 2
Load up the shuttle and head back to Dangriga, about 30 minutes, where we shall take a boat over to Tobacco Caye. 

We'll orientate ourselves with the kayaks, get the gear loaded and start our journey towards South Water Caye. There is exceptional snorkelling as we make our way along the Belize Barrier Reef. They'll be an opportunity to jump out the boats, don our snorkels and swim along, as we tow our kayaks behind us. 

Camping at South Water Caye.


Day 3
Explore the surrounding islands, the Smithsonian research centre and snorkel the reef. 

Camping at South Water Caye.


Day 4
Make our way to Billy Hawk Caye, along islands, and checking out reefs and mangroves. 

Camping at Billy Hawk Caye.


Day 5
Paddle south to Bread & Butter Caye and surrounding islands. Chilling, relaxing, hanging out, soaking in the sun and of course, snorkelling! 

Camping at Billy Hawk Caye. 


Day 6
Meander our way back up north towards Thatch Caye where we shall be spending the night.

Camping at Thatch Caye.


Day 7
Finding our way back towards Tobacco Caye, exploring the mangroves where there is the potential for manatee sightings. Once at the Caye, we shall be rewarded with a night in the Paradise Lodge overwater cabanas.

Overnight at Paradise Lodge, Tobacco Caye. 
 

Day 8
Take a boat transfer back to the mainland for a domestic flight from Dangriga to Belize City airport, before heading home – or extending your stay! 
Global Shenanigans
Average rating:
0 reviews