Here is everything you need to bring with you for a sea kayaking trip to Baja, Mexico!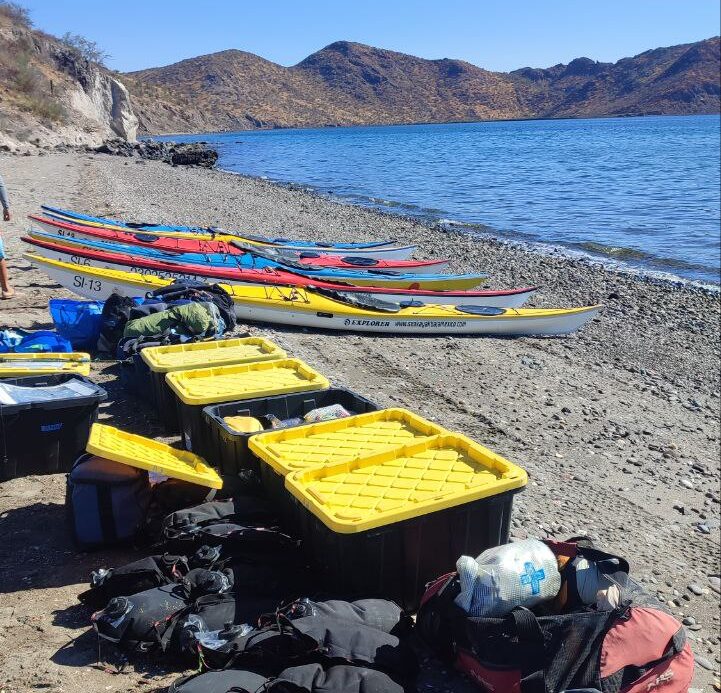 The Baja summers are roasting hot and the winters can be wild and windy. Our trip lands perfectly in the middle, where we experience the best of both – later than the winds yet before the extreme heat. 
Hot days, blistering sunshine and the dry desert environment make being on, in or near the water the best place to be. As the day turns to night, the evenings start to cool and long pants and a comfy sweater are the best attire to sit and watch the stars pop out overhead. 
Our accommodation providers allow us to leave bags behind at the hotel, so if this is part of a larger journey for you, or you have extra items you don't want to take on the water, those can be left behind safely.
Included
Firstly, let's run through all the things you don't need to bring. The following items are all complimentary on a Global Shenanigans Expedition, so no need to fill up precious baggage space with any of these – unless you'd rather use your own! 
All food and water during the activity days  
All paddling gear (kayak paddle, PFD, skirt, pump, sponge)
All camping gear (sleeping pad, sleeping bag, tent)
Snorkel set w/fins 
Camp chair
Wetsuit
Dry bags
Wet Gear for Kayaking  
When organising equipment for a kayaking trip, I like to split things up into 'wet' and 'dry'. Your 'wet' gear is what you wear on the water and you don't mind it getting wet. Your 'dry' gear is what you wear on the land and you want that to stay dry. 
Here are all the items you'll want to have with you on the water: 
2 litre water bottle(s) 
Sunglasses
Buff to cover your neck
Sun hat
Non-cotton long-sleeve shirt for paddling
Paddling shorts / swim shorts
Paddle jacket / wind jacket / rain jacket (unlikely to need it, but just in case) 
Water shoes 
Bathing suit (can be same as paddling shorts) 
Dry Gear for on Land 
This is what you'll put into the dry bags and stuff into the hatches of the kayak. You won't need to access any of it until we are back on land at the end of the day. 
T-shirts (2-3)
Microfibre towel 
Warm layer
Windbreaker jacket 
Long pants 
Underwear 
Light walking shoes 
Socks 
PJs 
Headlamp 
Bug repellent 
Flip flops
Personal 
Toothpaste & toothbrush
Sunscreen
Lip balm
Camera
Spare batteries for everything
Power bank for charging 
Book / Kindle 
Snacks 
Binoculars 
Basic first aid kit and medications  
Passport
Copy of health insurance, travel insurance, emergency contacts
Fishing gear & fishing license
Clothes for before & after the trip 
Gratuity for local guide (there will be one Mexican guide co-leading the trip)