Sicily Sea Kayak Expedition Briefing
Join a multi-day, multi-island sea kayak camping expedition around the volcanic Aeolian Islands off of Sicily.
This small group adventure will explore sea caves, natural pools, bubbling thermal springs and enjoy crystal clear Mediterranean waters. By night, we will stroll from our campsite into town, to indulge on fine Sicilian cuisine. You won't believe expeditions could taste so good!
We will explore this wonderfully unique environment by kayak, as it is the best way to discover the islands and areas that can only be accessed by boat.
The expedition is 8 days total (airport to airport), with 6 days of kayak activity.
Suitable for beginner-intermediate kayakers with an adventurous spirit.
What Are The Aeolian Islands?
The Aeolian Islands are made up of seven individual volcanic islands, located off the north coast of Sicily. Two of the islands are still active volcanoes and we will visit them both!
Each island has its own character. Lipari is the largest and most developed, and Stromboli is the most volatile and active, with regular eruptions.
The unique environment is a mecca for geologists and volcanologists to visit and study. We will experience things that cannot be done anywhere else in the world – paddle on top of bubbling fumaroles, watch floating pumice rocks drift passed and witness a volcano erupt from land and sea!
Why Choose Us For Your Sea Kayak Expedition?
Your expedition leader Chris has been working as a kayak instructor & guide since 2012, specialising in sea kayaking from 2017. He has led groups in a variety of wilderness environments across the world, as well as spending 3 months guiding around the Aeolian Islands, developing the knowledge required for this specific expedition.
Global Shenanigans works together with local contacts to provide information, equipment and safety support for all expeditions.
Chris is an accredited British Canoeing Sea Kayak Leader, Level 2 Paddle Sport Coach, White Water Rescue Technician and Wilderness First Responder.
Is This For Me?
This expedition is designed to mix adventure, exploration and unique experience in the most comfortable way possible.
The Mediterranean Sea is the perfect playground for paddlers. The warm water and the (mostly) calm sea conditions create a great learning environment for all kayakers, from beginner to more advanced.
The distance needed to cover each day is very reasonable, with the longest being around 4-5 hours of paddle time covering 20kms. This means we spend more time enjoying the cliffs, the beaches, the towns and the swim spots.
Group size is limited to 6 people. This allows for attentive guiding and support for the newer paddlers in the group.
Our campsites have been chosen for their ease of access to small towns. We can walk into town for dinner and pick up something for breakfast and lunch the next day. No need to carry 6 days of food and miss out on some of the best cuisine in the world!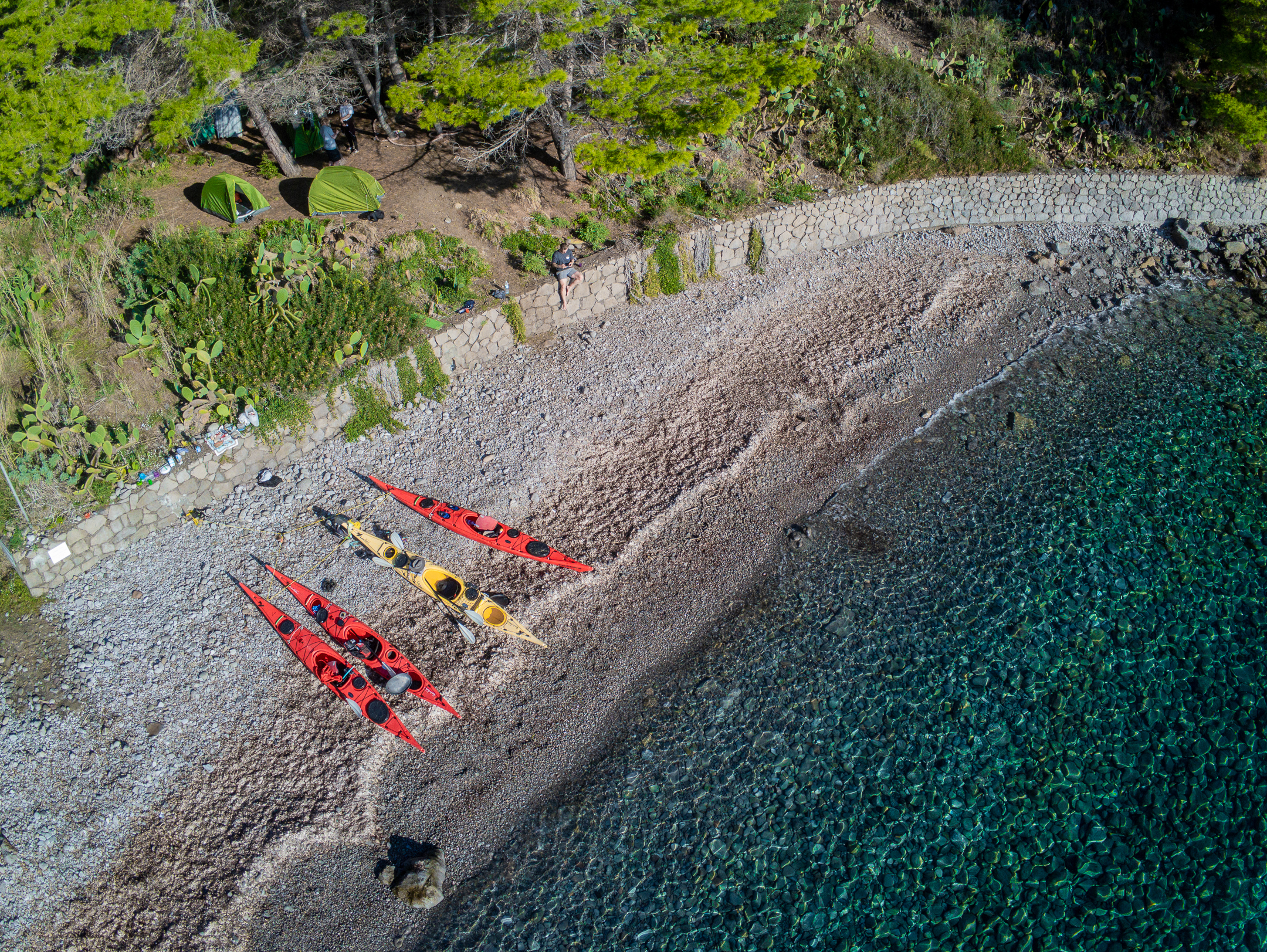 Included

Not Included

guides
ferry tickets
airport transfer
camping equipment
kayaking equipment
hotel accommodation before and after activity

food
flights
visas & vaccinations
personal travel insurance
alternative accommodation (if you don't want to camp)
Dates & Prices
2022 Expeditions
August 26 – September 2

September 9 – 16
The total cost of the Sea Kayaking Expedition, Sicily is £740.
Click here for information on the best adventure travel insurance
What Happens Next?
Ready to book your place?!
Get in touch using the contact form below or send a message via social media including your preferred dates. You will then be matched up with the best suited group or we can discuss organising a private tour.
Full details of the trip, including a Kit List and itinerary shall be sent to you. Places are confirmed with a £100 deposit.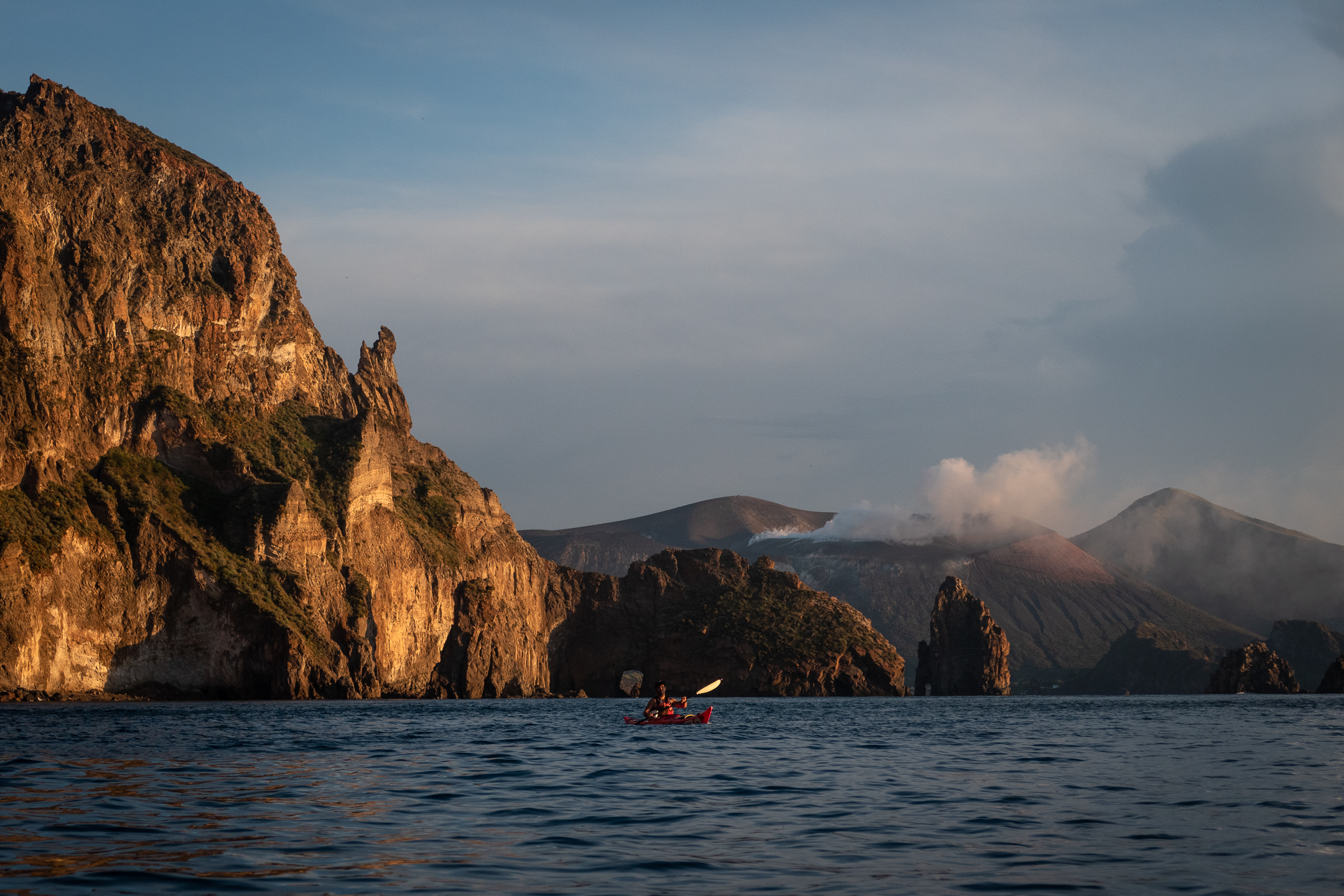 Sicily Sea Kayak Expedition Reviews
Average rating:
3 reviews
Dec 16, 2021
Kayakers dream!
What an adventure! I was so lucky this trip came up on my radar. I'm an avid kayaker so I was really excited about the chance to paddle on open water around these volcanic islands. Each day was different from that last as each island has its own vibe. My favorite was definitely the hike on Stromboli and seeing a live, active volcano go off a few times an hour. I've told my friends about this trip and if you have any reservations, don't!!! You'll have a blast. Chris is an excellent guide. So happy I went.
Nov 23, 2021
Great First Time Really Kayaking.
I had only kayaked once before joining up to go on this trip with Chris and I have to say it was great.

Great location, Great guide and atmosphere of the whole place and people that live there make this a trip to remember.
Oct 26, 2021
First time for everything
What an all round amazing trip!

First off i am a complete beginner at kayaking but this was the perfect challenge for me. Don't get me wrong, it was hard but in the best was posible. Chris supported me on day 1 when i really struggled and helped improve my technique.

But to top it all off Chris is an all round great guy! Originally my work wasn't letting me know if i could have the time off. But i was assured the spot was there if needed.

If you are reading this and contemplating it, just do it. You won't regret it!