Secure your spray skirt and buckle up your buoyancy aid, we are about to launch into the best sea kayaking destinations in the ENTIRE WORLD.
But first…
What Makes Something the Worlds Best Sea Kayaking Destination?
Well, there's a lot to consider when deciding what exactly makes somewhere the best sea kayaking destination. Is it the weather, the wildlife, the culture? Somewhere that has a totally unique experience that just can't be done anywhere else?
There's just so many factors, I decided it would be best to break it down into categories. To present each place with one key reason of why I believe you should add it to your sea kayaking bucket list immediately.
This is an organic and ever growing list. I will continue to add to it. And please, if you feel an injustice has been done and I need to add somewhere else – get in touch! If you can convince me, then I'll include it.
Be sure to save this somewhere as a reference for planning your next sea kayak trip!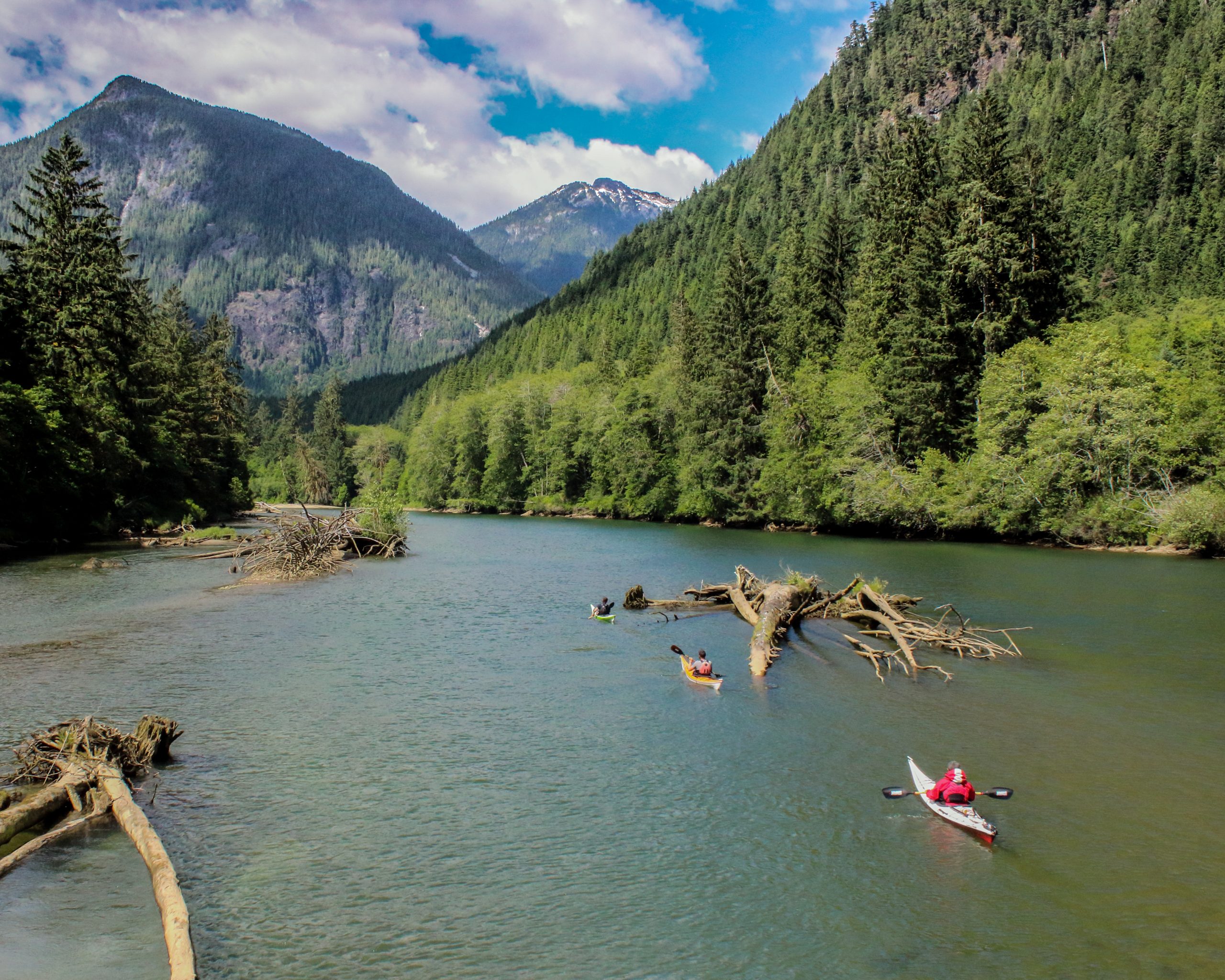 Norway – Sea Kayaking the Fjords
A place that has just risen and risen in popularity, and it's easy to see why. Every single photo that comes out of Norway is an absolute banger for starts. A landscape so powerful with a history riddled in myth and legend. Why do I think Norway is one of the best sea kayaking locations in the world?
Fjord – Geologically, a fjord or fiord is a long, narrow inlet with steep sides or cliffs, created by a glacier.
That's why. The Norwegian fjord lands are absolutely out of this world. Sheer cliff faces dropping at a near vertical angle into the water. The scenery in Norway is so epic, it makes for jaw-dropping scenery around every corner.
Vancouver Island – Sea Kayaking with Orca (Killer Whales)
Show me someone that hasn't dreamt of kayaking with orca and I'll show you a liar.
I spent the summers of 2018/19 on the north end of Vancouver Island leading multi-day sea kayak trips. People came from all over the world to be there for the sole objective of seeing an orca… in the wild… from a kayak. Orcas are of course a highly intelligent, wild animal that can cover distances of over 100km in a given day.
You'd think that the chances of just seeing an orca must be slim?
Well, no.
The waterway on the north end of Vancouver Island is called Johnstone Strait. It is a channel of water flowing between Vancouver Island and Canada's mainland, with numerous islands in-between. In the grand scheme of things, it's very narrow. This means that any wildlife that travels through here won't be so far from land.
What's This Got to Do With Sea Kayaking with Orca?
The Bigg's orca (mammal eating) can be found in this area year round. But what really makes this the best place for sea kayaking with orca is that in the summer months, salmon return to spawn. You know what loves eating salmon? The resident (fish eating) orca.
What I'm saying is your chances of seeing one during the summer months are actually pretty good. I'd even go as far as saying it is the best place in the world for kayaking with orca. That's right. Johnstone Strait is THE best place in the world for kayaking with orca.
It's true. I was there.
It is a spectacular moment and usually creates an awestruck silence from the group, some people even shed tears of pure joy. It really is special.
If you'd like to find out more, get in touch with my friends at Wildcoast Adventures.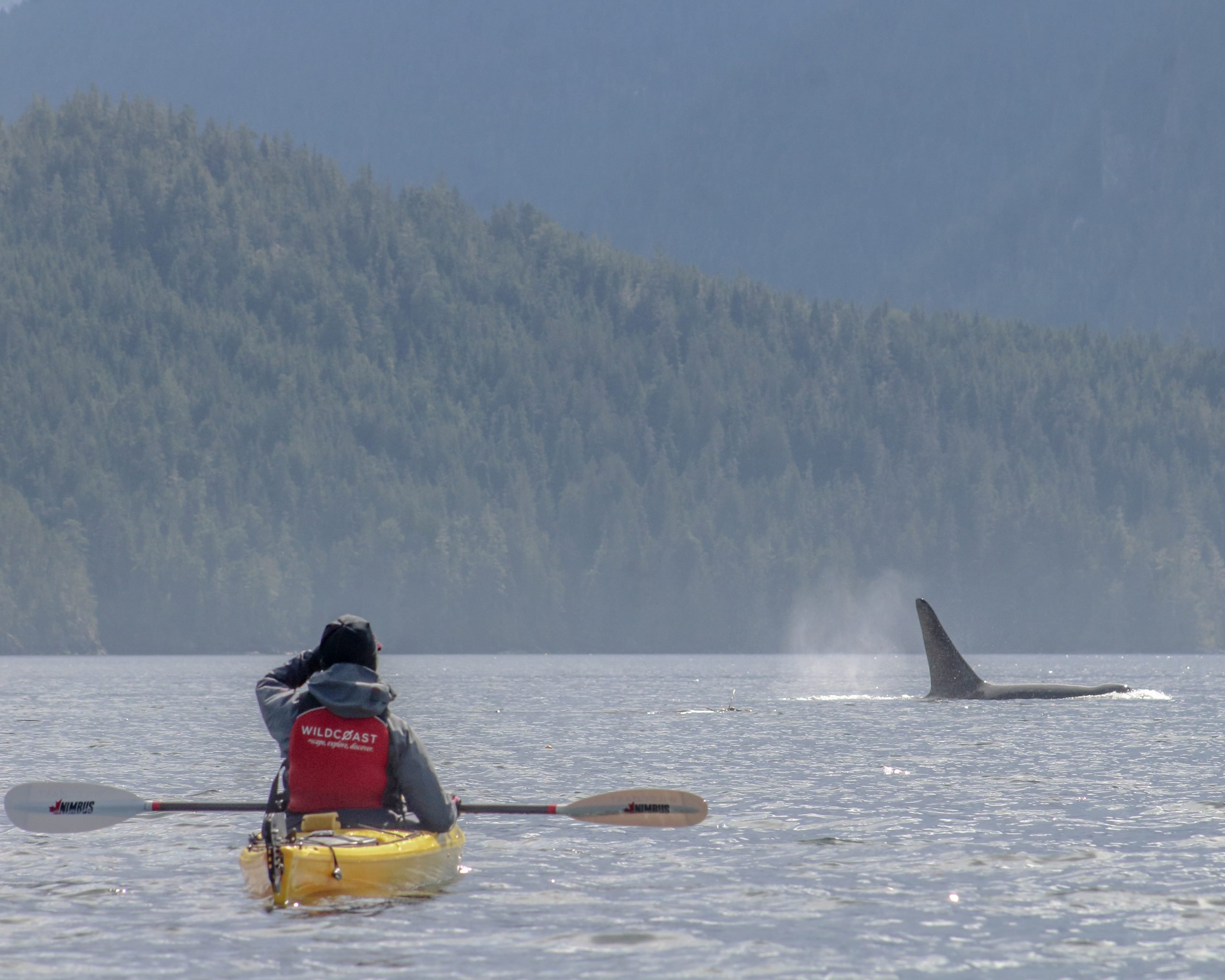 Glacier Bay – Sea Kayaking with Glaciers
Seems like an obvious choice for somewhere to kayak with glaciers. The clues in the name…
Glacier Bay is a National Park in south eastern Alaska, near Skagway. And you guessed it! There are glaciers there. Huge, massive, all encompassing blocks of ice. Unfortunately as time goes on, glaciers are becoming an ever more threatened species. It is important to see them and learn about them, so we can do what we can to protect them for future generations.
Glacier Bay Sea Kayaks have been operating in the area for a long time and would be a great choice to get you going.
Vulcano – Sea Kayaking with in Unique Landscapes
One of the most unique and stunningly beautiful locations I've ever had the pleasure of paddling – Vulcano, one of the Aeolian Islands off of Sicily.
The Aeolian Islands are a group of 7 volcanic islands, two still being active. Each island has its own character. Lipari is the largest and most developed, and Stromboli is the most volatile and active, with regular eruptions.
The islands are connected by a hydrofoil ferry system, but why not just take a kayak?
Sicily in Kayak is the local kayak company based off of Vulcano. I spent a few months in 2017 leading multi-day kayak trips with Eugenio.
Eugenio is a sea kayak master. He lives sea kayaking. He will do everything in his power to ensure you have the best time when in his company. He'll be sure to give you the full Sicilian experience – the best food, wine and taste of local culture.
As mentioned, all the islands were formed by volcanic activity. This makes them unlike anything I've seen before. Geologists and volcanologists are drawn to the islands to study. You'll find underwater fumaroles bubbling beneath you and the buoyant pumice rock float passed whilst you kayak.
Isle of Skye – Sea Kayaking in a Medieval Fairytale Land
Not sure what kayaking in a medieval fairytale land means? Look up Isle of Skye and then you will.
Known as one of the top locations to visit in Scotland due to its rugged and dramatic landscapes, and medieval castles (get it now?).
Skye and the Scottish Highlands are a must-visit location if you are looking for a true Scottish adventure. Home to Dinosaur fossils and a rich history of clan warfare.
South Skye Sea Kayak will be able to show you around on a guided tour. They also offer coaching for the more experienced paddlers.
Greenland – Sea Kayaking the Blue River
The most crystal clear waters you have ever seen. Located in the frozen wonderland of Greenland, the melt off of the Petermann Glacier fills in the lower sections of the glacier in turn creating the Blue River.
Every year the shape of the river changes due to the refreezing and then melting.
Kayaking the Blue River is a completely surreal Artic experience and something that would be hard to match anywhere else. You'll find more info here at The Blue River website.
Sea Kayaking with Humpback Whales
Sharing the water with a humpback whale is very special. If you've not seen one before, take a minute to Google their size.
Answer: absolutely ginormous.
They are like a school bus. Except they are living, breathing and they don't use turn signals to tell you when they'll pull out in front of you. They are unpredictable and any whale encounter must be approached with the upmost respect for the animal.
Humans have terribly mistreated humpback whales (all whales in fact) in the past, almost driving them to extinction. Fortunately, the whaling industry has ground down to a slow pace and has almost ended. This has given a chance for the population to bounce back in great numbers. Humpback whale sightings are on the rise all around the world. This means there are many amazing locations you could kayak with humpback whales.
Instead of telling you the best location to kayak with humpback whales, I will tell you how to find the best companies to kayak with humpback whales.
How to Know?
Here are some things to consider when choosing a company or tour provider. These are questions to ask yourself before booking, as most of this information should be apparent from their website.
do they truly care about the wellbeing of the animal, or is this strictly business?
what steps are taken to protect these animals?
is this activity regulated by local government?
are the whales behaving naturally?
is your presence invasive?
The great majority of tour providers that offer whale encounters do it because they love the animals and they love kayaking. They treat every encounter with respect and that should be apparent. You will probably find that the staff of these companies are just as excited at seeing a whale, sometimes even more so, than the clients.
Canada is leading the way for best practises by making the harassment of marine mammals a federal crime. Here is a link to their whale watching regulations. Every country approaches this topic differently, so know that what is 'acceptable' legally, will vary from place to place. Decide your own moral code to apply with all wildlife experiences.
The power of the dollar is the most powerful tool of them all.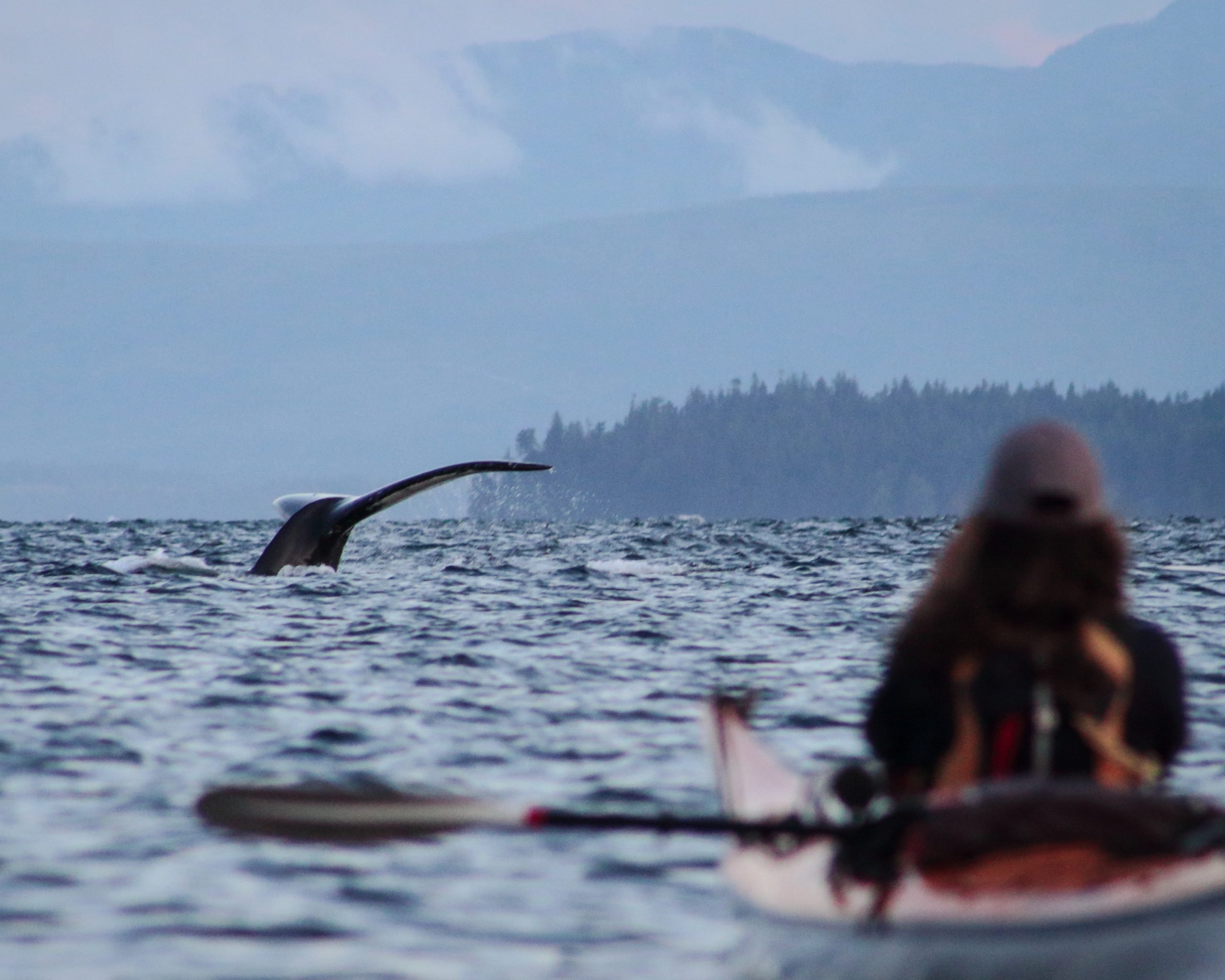 Sea of Cortez, Baja – Sea Kayaking with Marine Life
I couldn't compile a list of the best sea kayaking locations and not mention 'The Worlds Aquarium'. The Sea of Cortez is also called the Gulf of California and is the stretch of water between the Baja Peninsula and mainland Mexico.
It is thought to be one of the most diverse seas in the world. Some of its inhabitants, as well as migratory species, include: blue whales, humpback whales, grey whales, killer whales, manta rays, squid, sea turtles, sea lions and an almost endless list of fish and other sea creatures.
You may have realised by now that I am quite fond of wildlife. I also believe that there is no better way to enjoy watching wildlife than from a kayak, so what better place to do so!
Get in touch with the folks over at Sea Kayak Baja for some more information.
Greenland – The History of Sea Kayaking
That's a second appearance for Greenland as one of the best sea kayaking locations in the world. Well, it is the birthplace of kayaking after all! The exact location is not entirely known, as it may have been over 4,000 years ago. However, it is thought to have been in the high northern regions around Greenland, Canada, Russia and Alaska.
The Inuit people of Greenland used kayaks as a hunting tool, allowing them to venture great distances in search of food.
The Inuits had to really master the craft, as a capsize would surely be fatal due to the freezing water temperatures.
A sea kayaking trip to Greenland is absolutely essential for all paddlers to make at least once in a life time. Learn about the development of kayaking, how it was such an integral part of Inuit history and how their very survival depended on it. Sea kayaking in Greenland is not only an incredible learning experience, but the vast icy landscapes make it one of the most stunning locations to sea kayak as well.
Reach out to Tasermiut to plan your trip!
Newfoundland – Sea Kayaking with Icebergs
Where better to sea kayak with icebergs than Iceberg Alley?
This waterway stretches from Labrador and along the coast of Newfoundland. Each year will of course be different, depending how many icebergs calve off of western Greenland. The best time is usually around June.
To sea kayak with an iceberg is to paddle with a floating ice mountain. It moves, it makes sounds and it is forever reshaped and remoulded by the sea. Another experience to make you feel very small and in awe of nature.
Rock Adventures are the choice provider for finding the bergs!
Solomon Islands – Sea Kayaking off the Beaten Path
It doesn't feel much more remote than the Solomon Islands. An archipelago of 6 major mountainous islands and over 900 smaller ones, to the east of Papua New Guinea.
The Solomon's offer world class diving, untapped nature and a rich and vibrant local culture mixed with WWII history.
This really is an adventure like no other and a lesser known sea kayak destination to add to your list. Kayak Solomons will help get you going!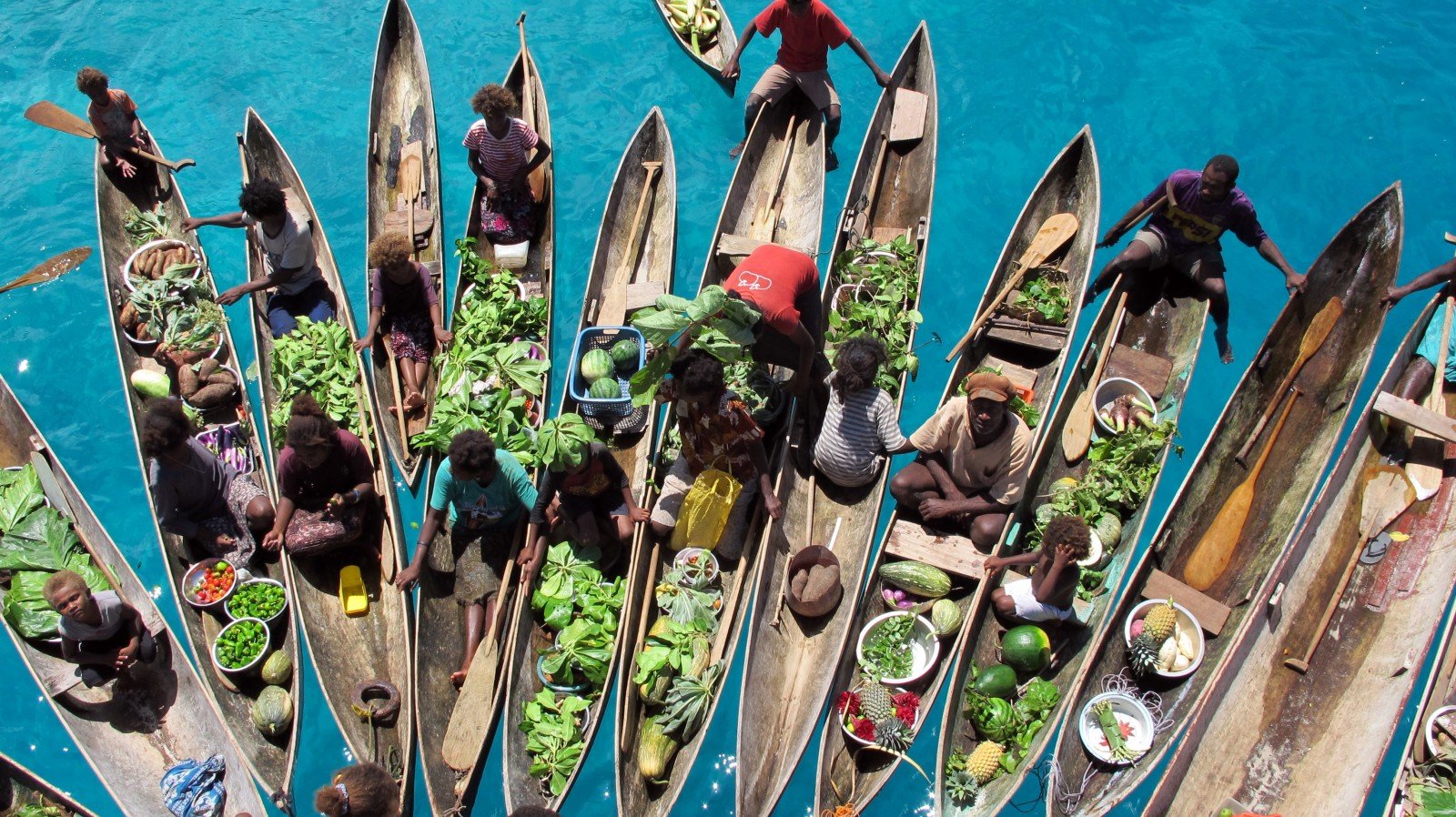 Antartica – Sea Kayaking at the End of the World
A sea kayaking adventure in Antartica will be like nothing you have ever experienced before.
Firstly, how to even get there. The mostly likely way is by first going to the most southerly part of South America, which is Ushuaia, Argentina. Once you've got to the end of the Earth, you jump on a ship and keep going. It takes roughly 48hrs and you'll be crossing the infamous Drake Passage.
Once there, you will be greeted by epic mountains, ice floats and glaciers, as well as wildlife in vast numbers like you've never seen before.
Kayaking in Antartica is truly a unique experience. It combines a number of the special features mentioned above, all in one place.
Get in touch with Hurtigruten for details of when they are next sailing!
Patagonia – Sea Kayaking Somewhere Truly Wild
Patagonia has been on my radar for a long time, for many many reasons. The unique landscapes, rugged, powerful mountains. I've wanted to visit for the hiking, the scenery, the wildlife and of course the action on the water.
The area of Patagonia covers the lower sections of Chile and Argentina, and is the staging post for trips to Antartica.
The appeal for me is that it is a place to remove yourself from the rest of the world, hidden away at the most southerly point of the continent. Escape into nature and be in awe of everything wild on Earth.
Swoop-Patagonia will ensure you achieve all your Patagonia goals with their tailor made trips.
Fiordland, New Zealand – The People's Choice!
I opened this up to you, the people, for any recommendations that deserve a place on the list of Best Sea Kayaking Destinations in the World…
The clear winner, put forward by Kiwi's, visitors and fellow kayak guides alike, was Fiordland, New Zealand! I checked it out online and I can clearly see why.
Fiordland is a region in the south western corner of the South Island. These glacier carved passageways cut amongst snow-capped mountains. Ancient rainforests cling on to dramatic mountainsides, with still waters and deep lakes running amongst them.
A truly deserving place on the list.
Rosco's Milford Kayaks will show you around and help you see the beauty of Fiordland.
Best Sea Kayaking Destinations in the World
There should be enough in here to keep you busy and help guide you towards your next sea kayak adventure!
This list is organic and ever changing, so be sure to bookmark it and check back in future to see what's new.
If you have some suggestions to include please get in touch and together we shall make the ultimate list to end all lists – of the best sea kayaking locations in the world!
Interested in heading on a once in a lifetime adventure, without the organisational hassle? Be sure to get your name on the Global Shenanigans Expedition list. Worldwide expeditions, with all the work done for you. All you have to do is show up.
Happy paddling!