Yangshuo is one of the most epic fairy tale towns I have ever had the pleasure of laying my eyes upon. Drawing in local holiday makers and international dirtbags alike, there really is something for everyone. That's why I wanted to throw together a Yangshuo rock climbing guide: to up your stoke levels, get Yangshuo to the top of your 'must climb' list, and to make your stay a little easier when you get there.
Located just a few hours from Guilin, Yangshuo is within the Guangxi Zhuang Autonomous Region. This area is world famous for its karst mountains – spires of standalone limestone rock, shooting vertically out of the rural fields, leaving a sea near endless potential for crags and routes. It truly is a climbers paradise and easy to see why people are drawn to this natural beauty. I have been fortunate to make Yangshuo my temporary home over the course of two long summer seasons.
I would like to share some of the wonders of the town in order to help you experience this magical place. Use the contents page to help you navigate the Yangshuo rock climbing guide and enjoy!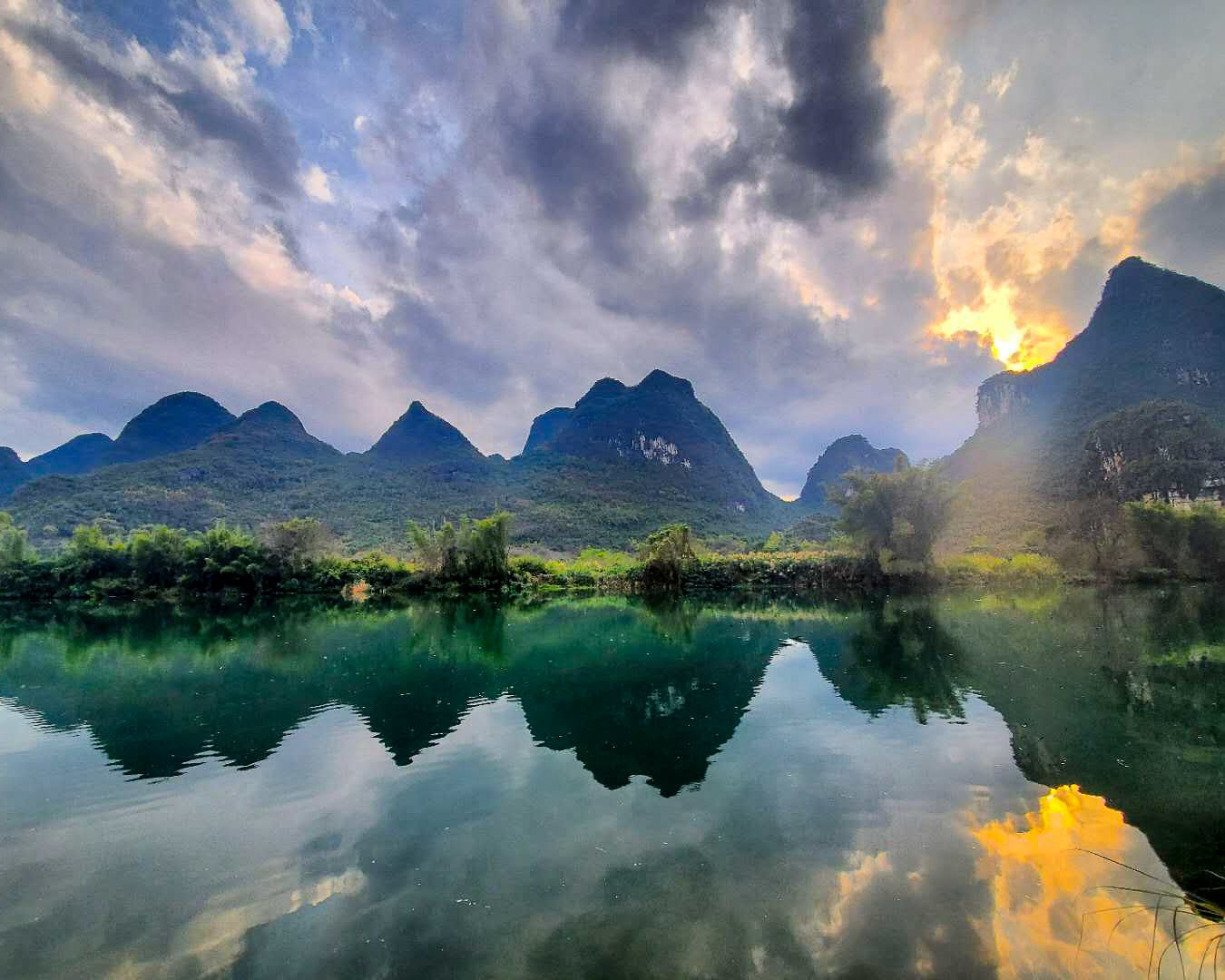 A Quick Lesson in History & Geography
The main walking street in Yangshuo is called West Street. This street is 1,400 years old. Think about that for a minute. 1,400 years is a very long time. Well, not when you are in a nation that claims '5,000 years of history'. Yangshuo was traditionally a fishing village, nestled against the winding Li River that connects it to Guilin. Only in the 80s and 90s did tourism start to expand. Around that time, backpackers started to stumble in. I suppose it didn't take long for them to see the potential here and rock climbing companies started to make roots (& routes), spreading the world to the international audience.
An interesting phenomenon in Yangshuo – and a lot of China – is that the mountains are formed by the softer ground eroding around them. This leaves the karst mountains exposed. Where as most mountains are formed by the rock being pushed up, these are formed by the ground eroding away. Karst mountains are synonymous with sinkholes and cave systems. The water drainage that creates this effect also creates fantastically sculptured hand holds and an ideal environment for climbing.
Getting to Yangshuo
From Guilin
The most simple option is to fly to Guilin. This is an international airport with a bus transfer directly to Yangshuo. You'll find the ticket booth located in front of you as soon as you exit the airport security area. The price is approx 60RMB.
There is also the option of a private taxi or minibus. This will be your fastest option but will come at a higher price of approx 250-300RMB. If you have a larger group size it could be beneficial. There is also an app called DiDi which is similar to Uber. You can download it via WeChat and use it to hail a taxi.
If you are already in Guilin, there is a bus in town form the Guilin South Station to Yangshuo Station at approx 30RMB.
From Hong Kong
This is quite a likely port of call as Hong Kong is not too far away. You of course have all the options above, as you can fly from Hong Kong to Guilin.
However, the cheaper option would be to cross the border into Shenzhen. From here you can get an overnight bus to Yangshuo.
Now. Do not take this lightly. The night bus is a serious matter that needs serious preparation. They make very few stops and when they do there isn't much for food options. Make sure you are fully loaded on snacks and supplies, music device charged and ready to mong out on your bed for the duration of the journey. Begin the dehydration process about 2 hours before take off. If you are prepared then it can be a kind of fun experience to only do one time in your life. It is the cheapest and obviously saves one nights worth of accommodation.
Alternatively there is a metro system that can take you from the border crossing to Shenzhen North Terminal train station. From here you can catch a bullet train to Guangzhou South. Then another train to Yangshuo and a bus into town. This is my preferred route. However it can be a slightly complicated system with lots of lines. You would be more comfortable taking this approach with some basic Chinese, but it is still possible without.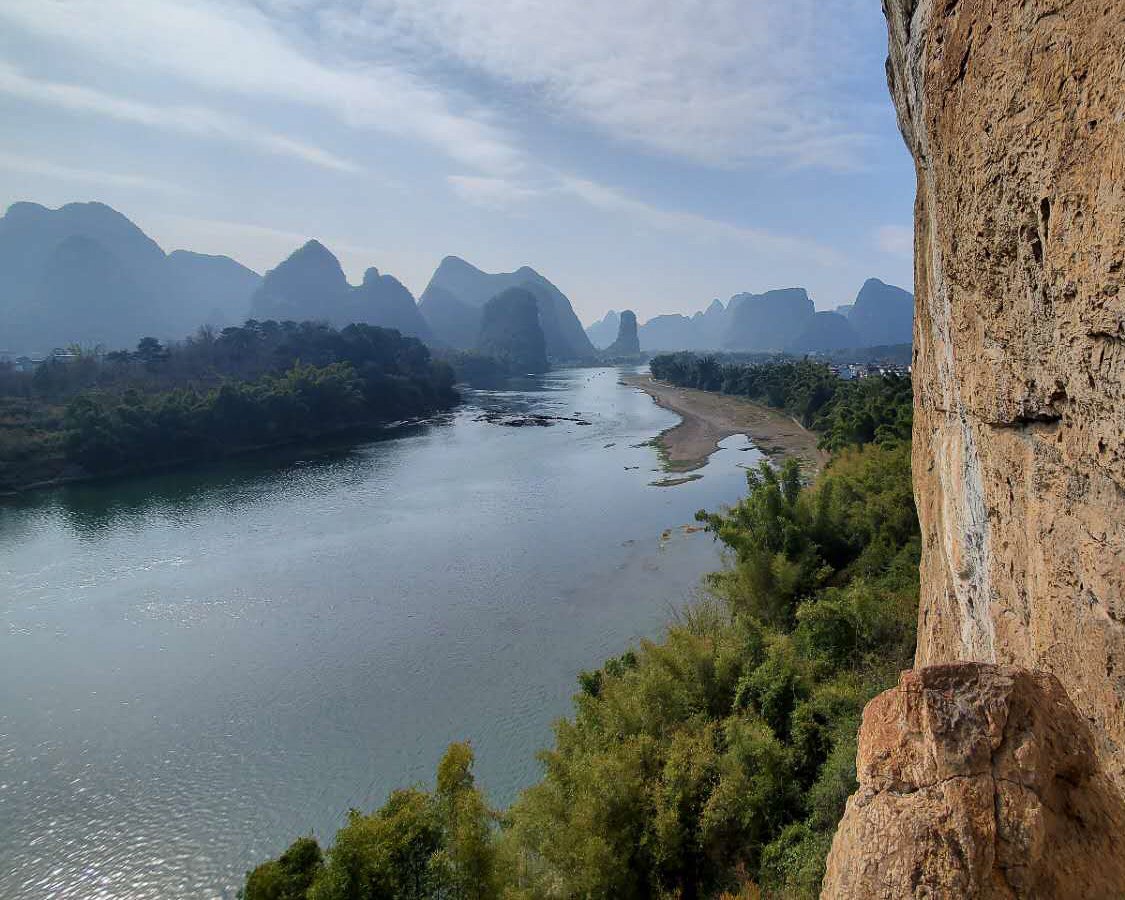 Eating, Drinking and Sleeping in Yangshuo
Best Accommodation in Yangshuo
As this is a Yangshuo rock climbing guide, the tippidy top recommendation for somewhere to stay in Yangshuo is of course Climbers Inn. As the name suggests, this is a hostel set up with climbers in mind. It's the perfect place to base out of and you will be able to gather plenty more information and top tips from the folks you'll meet. It is also a great way of finding climbing partners or a crew to tag along with. The owner, Lily, is fantastic and always down to climb. A great environment to be in and cheap dorm rates for all you dirtbags out there.
Other than that, there are actually a TON of places to stay. Yangshuo is a very popular tourist destination amongst Chinese people (not just climbers) which means there are a heap of accommodation options. Something for every budget. Nearer the town gets you closer to the hustle and bustle, and to the food. Further out can be a lot quieter and more relaxing. If you plan on renting a scooter then staying out of town can get you a bit more bang for your buck.
Boozing in Yangshuo
Yangshuo has quite a fair share of drinking establishments. Take a wander down West Street and you will have your eardrums double penetrated from both sides by a multitude of Chinese nightclubs that line the strip. The none-stop, monotonous thumping of 'kick kick kick kick' bellowing out the doors of the mostly empty clubs. It is quite an experience. I have had many good nights in these obnoxious rooms, always a super fun time. More than likely, a group of Chinese businessmen will invite you to their table to buy you drinks and cheers over their recently brokered business deals and successes. A win for all.
If you wanted to keep it a little more low-key, then Rusty Bolt is probably going to be your jam. As the name suggests this is a Yangshuo rock climbers hang out. Quite often they have jam nights with live music. This is another great place to meet the 'local foreigner' crowd and maybe get some beta on the best places to check out.
The Bad Panda Rooftop Bar is another favourite. The rooftop terrace offers some of the most spectacular views in town. The owner, Heather, is a wonderful human. Finally, if you really want to get weird into the early hours, Mojo's rooftop nightclub will keep you boozed up until the morning sun.
Where to Eat in Yangshuo?
We're talking about Chinese food here. REAL CHINESE FOOD. Prepare to have your taste buds rocked beyond your wildest foodie dreams. One thing to consider is that almost none of the menus will be in English. They will probably have pictures on them so if you don't speak Chinese at least you won't starve to death.
Once when asking my friend what the food put in front of me was, she replied, "a true Chinese person wouldn't ask".
Some of the tastiest late night meals will come from the pop up BBQ stands down by the river. Grilled garlic eggplant is a favourite. A local delicacy is BBQ pigs dick. I tried it once. And only once. It tastes like rubber and looks like a curly dick. But at least now I always know my answer to, "what's the weirdest thing you've ever eaten?"
A safe choice that is always delicious is "炸酱面" – pronounced 'ja ja me en'. Save this onto your phone and you will be okay.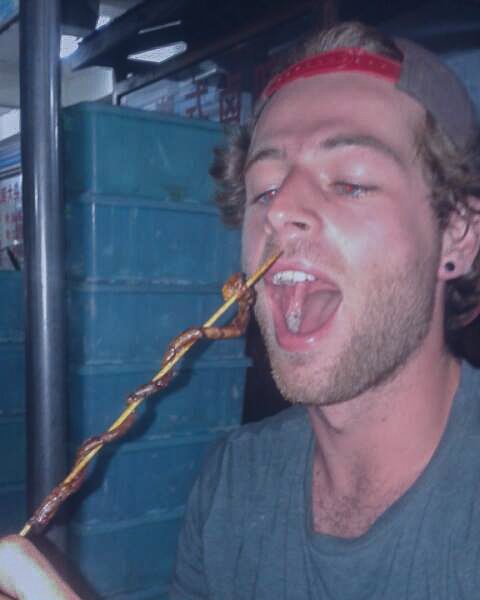 Getting to the Rock Climbing Areas in Yangshuo
Getting around in town is fairly easy. There are a lot of options for renting motorbikes, scooters, e-bikes or bicycles. If you are hanging around for more than a week or so, long terms prices can be negotiated. As with anything when travelling – never accept the first price offered. If you are staying for some time then buying second hand can save a lot of hassle. Ask around at the bars for info and you may even find someone selling. Consider it an investment that can be sold on when it is your time to leave.
Most of the crags are a bike ride away, with the furthest being roughly 30mins on a motorbike. Exact locations can be found online or by picking up a local guidebook. As soon as you leave Yangshuo town, you will find yourself surrounded by the towering karsts and the crawling jungle connecting them. Remember to bring bug spray.
When is the Best Time Visit Yangshuo?
I'll start by telling you when NOT to visit. Chinese New Year or Golden Week. This is the largest movement of people around the world, ever. It is a period in which the government grants everybody time off to visit family. The reason you don't want to visit is because there will be hoards of people all over the place and most of the hotels will be full. Not a good time to travel. Although if you are already in Yangshuo then you can just lay low at the crags.
The summer time in Yangshuo is beautiful. It does get very hot and humid. There are usually at least one or two big storms that bring with them serious flooding.
The ideal time to visit is in the fall. The summer heat has passed and the continuous winter cold and rains have not yet come in. This makes for the best climbing conditions.
Things to Do When You Aren't Rock Climbing in Yangshuo
It really is a dreamworld. And there are plenty of rest day activities to keep you busy during your stay.
Head to the River For a Swim or Deep Water Solo!
There are two rivers around Yangshuo. The Li River runs next to the town. It is a larger river and has some current to it to be weary of. If you head north you'll be able to find the not-so-secret Secret Beach. If you swim across the river to the rock faces, you'll be able to spend hours deep water soloing around this spot. Begin on the far left hand side and scout out some climbs. Every time you fall in, the current will take you slightly further down and you can repeat. The second river near Yangshuo is the Yu Long. This is a slower, more meandering stretch. Perfect for some sunny day dips or a bamboo raft adventure.
Hike Up Green Lotus Peak
This is one of the many many karst mountains. There is a steep hiking trail up to the top. No matter how tough it gets, I can assure you that it is worth every single step. Look online or ask a friend for direcitons.
Xingping Fishing Village
If you didn't mind going slightly further afield, a trip to Xingping is 100% worth your time. This ancient fishing village is completely idyllic. There is an ancient walking street and breathtaking views. If you want to know what it looks like, get out your wallet and have a gander at the 20RMB note.
Moon Hill
One of the most recognisable areas of Yangshuo, this moonlike natural arch makes it a popular tourist destination. There is a hiking trail up from the base. Once upon a time, this was one of the gnarliest crags in town. Unfortunately climbing here has since been closed due to the risk of rocks falling down onto the tourists below. You face hefty fines if caught defying this rule.
Stay in and Make the Most of an Endless Supply of Free Resources!
Check out this compilation of free resources & ideas for outdoor adventures to do inside. Perfect for down days, rain days or rest days. Everything from workouts, follow-along yoga classes, mindfulness apps and days worth of free-to-stream adventure movies.
What Gear Should I Take on a Yangshuo Rock Climbing Trip?
Travelling with a full rack and a small caravans worth of gear is a real pain in the arse. Particularly if you don't know if you'll even need it all. What you bring depends on what your level is, if you want to rely on local guides or take the risk of finding someone with a rope. Yangshuo is the mother of all sport climbing areas, so don't worry about bringing your trad rack.
Between you and your crew, you'll want everything above. Note: as an Amazon Associate I earn from qualifying purchases. This doesn't affect your price, just helps keep this site running.
And Now, Without Further Ado… The Yangshuo Rock Climbing
Below is a list of my favourite crags in the area. It's a quick look at the basic run down. Paired with a local guide book, google maps or a chat with a local at a bar – you'll be well on your way to enjoy all that Yangshuo has to offer.
Beginner
Swiss Cheese
This is a great starting point with plenty of nice climbs and a shaded belay area. It runs nicely in difficulty pretty much from right to left. This crag is really close to town and has a parking fee of 2RMB. You'll find everything here from 5.4 to 13a.
Recommended routes:
Philly Cheese Steak 5.9, Two Faced 5.8, Classic Gouda 5.6
Wine Bottle
Another beautiful easy crag with some challenging routes mixed in. Very close to town. Get on the main road towards the giant butterfly and take a left when you get there.
Recommended routes:
Slack 5.10b, The Miracle of Lankou 5.10a, The First Summit 5.9, Helsinki Handsaw Massacre 5.10c
Dragon's Tooth
A little further out of town in the direction of Jiuxian. This beautiful and remote crag will have you drive through the Yu Long nature park for some scenic views of the river as well as some tiny villages scattered throughout. This is a great spot for beating the crowds.
Baby Frog
Another one on the way out towards Jiuxian, in the town of Xiatang. Perched up on a hill, giving you great views of the town below. Some very nice 5.9 and 10a to 10c. The hardest climb here is in the 11's.
Intermediate
The Neighborhood
The closest crag to town!
Recommended routes:
Whispering Willows 5.11c, Cuz'n Joe's 5.11d
White Cliff
Also on the way out towards Jiuxian. This crag has a few different faces with each one offering a different style.
Recommended routes:
Hola Hola Coca Cola 11a, Resurrection 11d, Possession 10d, Mono to Mono 11b, Blade 13c
Riverside
A fan favourite and the best place for some intermediate and advanced climbs. This is right on the route, so will of course have some traffic noises below, however the beautiful Li river makes up for it.
Recommended routes:
Dragonfly 12a, Flaming hornet's 12c, Flight of the Bumblebee 13c, Little Sister Mother Fucker 10d
Advanced
White Mountain
The king of all mountains in Yangshuo. One of the best places for some hard and intermediate climbing.
Recommended routes:
Spicy Dumpling 14d, China Climb 14a, Spicy Noodle 14c, French Gangster 14b, China White 12b, White Devil 12d, Days of the Phoenix 12a, Face route 11a
LeiPi Shan
Another hard and sustained crag for those looking for a challenge. A little far out of town past Moon Hill, but it does not disappoint.
Recommended routes:
The Power of One 12a, Dream and Hope 13a, Paper Cut 12d, Single Life 13b, Lightning 13d, Singularity 12b
Yangshuo Rock Climbing Guide – Final Say
I really hope the words on this page help to answer some of your questions about rock climbing in Yangshuo! I had the most incredible time when I was there, even breaking my 'never do the same season twice' rule. It was that good.
If you have any further questions feel free to get in touch I'll be happy to help out any way I can, even just to let me know you made it and I was right, Yangshuo is incredible.
Thanks for reading the Yangshuo Rock Climbing Guide. Have fun!