When trying to decide where to go on a road trip in Wales, you are faced with a lot of fantastic options. Wales is of course known for its beautiful countryside – the rolling green hills around Brecon Beacon National Park, the rugged mountains of Snowdonia National Park in North Wales, and also the coastal cities of Cardiff and Swansea. The whole country is packed with beauty. But I'm going to present my case for why I think Pembrokeshire is the best road trip in Wales!
Where is the Best Road Trip in Wales? 
Pembrokeshire. If you are looking to split your time between surfing, sea kayaking, hill walking and rock climbing; having lunch in quaint little towns or visiting the smallest city in the UK; and you'd like to travel between each of these places on roads worthy of a Top Gear Special… Then Pembrokeshire should be your number one road trip choice too. 
First, for those that don't know – Pembrokeshire is a Welsh county on the South Western tip of the country. It is deep rooted in history, with human settlements in the area dating back as far as 70,000-120,000 years ago. 
But what really drew me to Pembrokeshire, is the Pembrokeshire Coast National Park. This is the only national park in the United Kingdom assigned because of the coastline, and the national park itself takes up a third of the county.
Pembrokeshire Coast National Park consists of epic coastline, sea stacks, natural archways, dreamy sandy beaches, woodland, estuaries and the rolling greenery and moorland of Preseli Hills. 
You can explore much of the above by following the Pembrokeshire Coast Path – a 186 mile long trail meandering along the clifftops.
The deciding factor really comes down to how much time you have. If time was not a factor, then following the coastal road all around Wales in its entirety would be an incredible road trip route. For us however, we were limited to a long weekend. 
And where would be the best place to go, for the ultimate long weekend road trip adventure in Wales? Pembrokeshire of course! 
Where is the Best Place to Rent a Camper Van in Wales? 
Now you've been convinced and are ready to commit to a Pembrokeshire road trip, we better figure out the logistics.
There are many ways to road trip. Take your car and throw a tent in the back? Ditch the tent and just sleep in the car? Whatever. You do you. But what I am going to tell you is the best way to road trip in Wales. And the best way is by renting a camper van. 
By renting a camper van, you will be able to pack all of your gear in easily, with plenty of room for activities. We had a full trad rack for climbing, wetsuits, food, beer, clothes and room for more (I decided to leave the surfboard at home and rent if we needed). With all that, there was still plenty of room to cook, sleep and read a book, with nothing needing to be thrown outside at night. This meant everything stayed warm and dry inside, instead of being dampened by morning dew.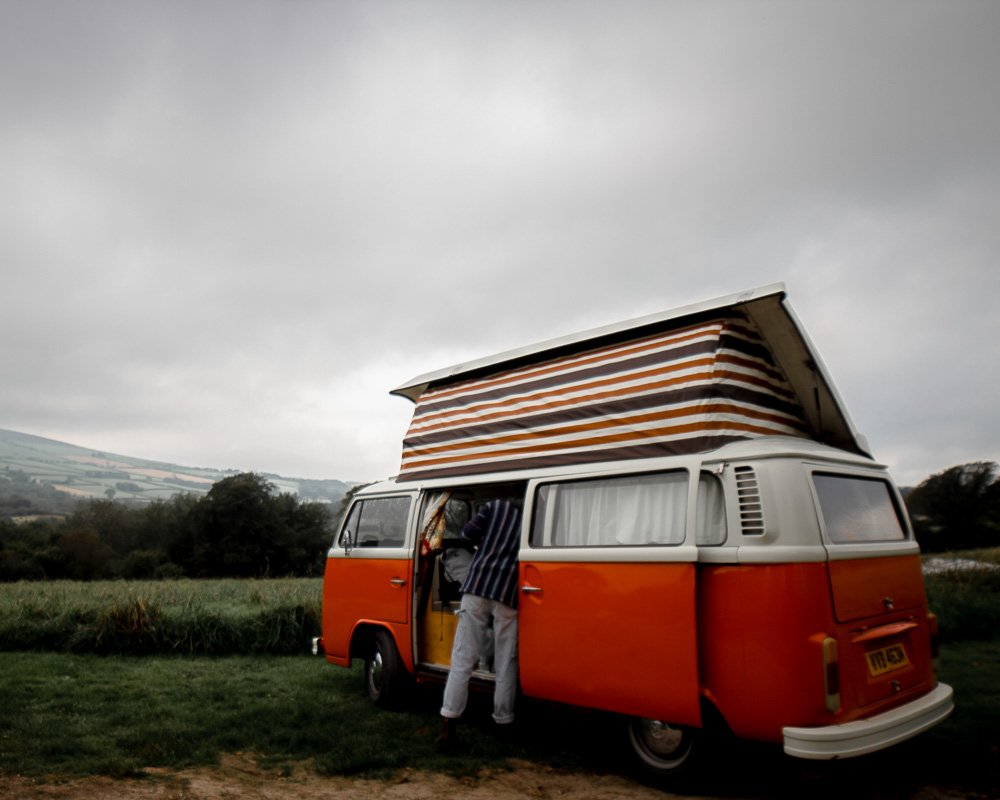 Another benefit of a camper van is the freedom to move. Each day can be taken as it comes, with no plan set in stone. Want to climb today? Go climb. Want to eat out at a restaurant? Let's go. You are able to visit and stay at every part of Pembrokeshire as you with, instead of being limited to just one area. This alone trumps a hotel every single time and you'll never need to be waiting on public transport again. 
If you need any more convincing or would like some van life / road trip life hacks, then check out The Ultimate Guide for Van Life & Road Trippin'. You should probably bookmark it before your next trip! 
We rented a camper van through Go Boony, an international camper & RV rental platform where you rent directly off of local owners. This allowed us to choose something exactly to our requirements from plenty of options. There are big RV's with all the luxuries you could imagine, ones that can sleep 4+ people, even dog friendly campers.
Our main criteria was 'travel in style', so of course we went for a 1973 VW Camper Van. Use the link above and plug in 'Shenanigans-3c9c' for a sweet discount!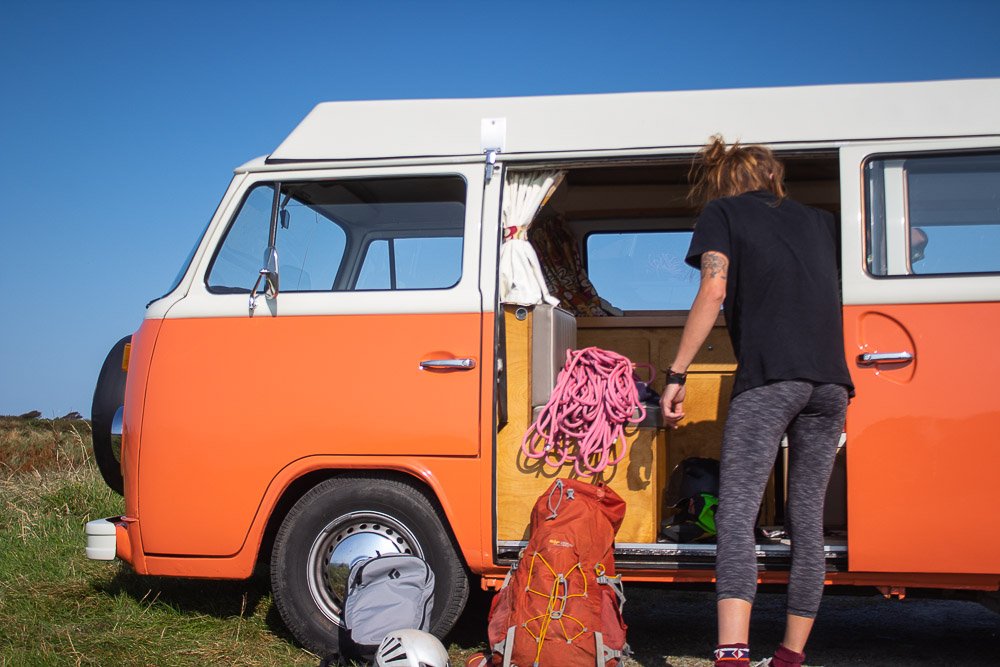 Finding a Campsite in Pembrokeshire 
Stealth or Free Camping 
If you've been following me for some time, you'll know I am quite the fan of 'stealth' or free camping. There is an extra sense of achievement from scouting and securing your own plot of land. 
Stealth camping is possible to do around Pembrokeshire. One particularly chatty local explained to us how, even though the car park we were in had 'No Overnight Parking' signs all over the place, it actually wasn't true. They were put there by the community yet held no legal standing. You also have the age old classic of 'arrive late / leave early'. This can be done around many of the more popular beach areas. I'm not going to give any specific locations here because that ruins the whole point of it and won't be long until it's clamped down on… or your van gets clamped.
What I will say is that it is a popular tourist destination in the summer. There often just isn't the space for people to be free camping and unfortunately too many people ruin it for the rest of us, by parking obnoxiously and leaving mess.
It is much better to give yourself the peace of mind by staying at an official campsite, with facilities and a quiet place to lay your head, with no chance of getting a knock on the door at 3 a.m. from someone telling you to move on.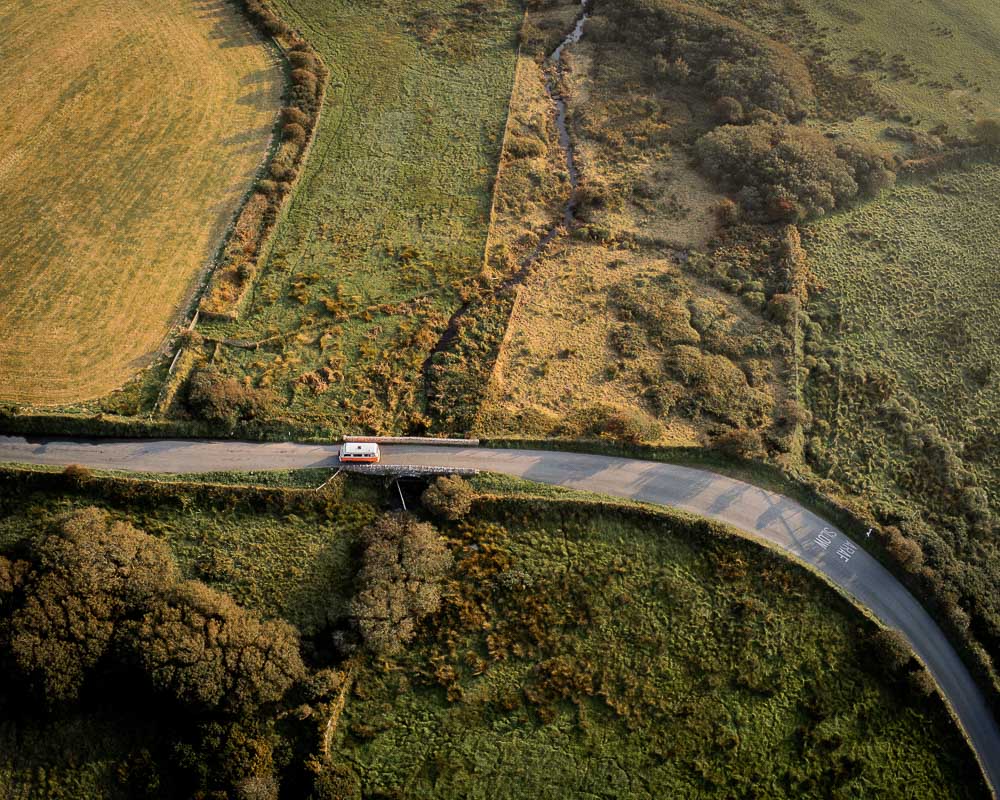 Where to Find a Campsite in Pembrokeshire?
There are a whole load of different campsites to choose from in Pembrokeshire. They vary depending on location, facilities, eco, glamping, family, beach access etc. 
Decide what you really want out of the camp site. Is it just a place to park up for the night and get a shower? Or do you plan to spend some quality time in front of a campfire and exploring the grounds? 
Word of warning: treat any campsite that has the words 'Holiday Park' in their name as a red flag. Unless you're looking for the camping equivalent of a McDonalds play pen. 
For us, we wanted somewhere we could escape. We'd be out early in our VW Camper with action packed days, returning just before sunset. This meant we wanted to chill out and unwind in the evenings, in front of a campfire, with no sounds other than a chorus of song birds to begin each day. We found just that at Top of the Woods. Top of the Woods is a multi-award winning eco-camp, with luxury glamping options in their pioneer tent and 'Nature Domes'. They have pull up pitches available for camper vans and tents, meaning you can do your own thing, or you can treat yourself with the glamping options that come with outdoor kitchen areas.
Their 27 acre site has its own woodland with a nature trail leading to a secret waterfall. There are walking routes from the site, either towards the Preseli Hills or to the Pembrokeshire Coastal Path.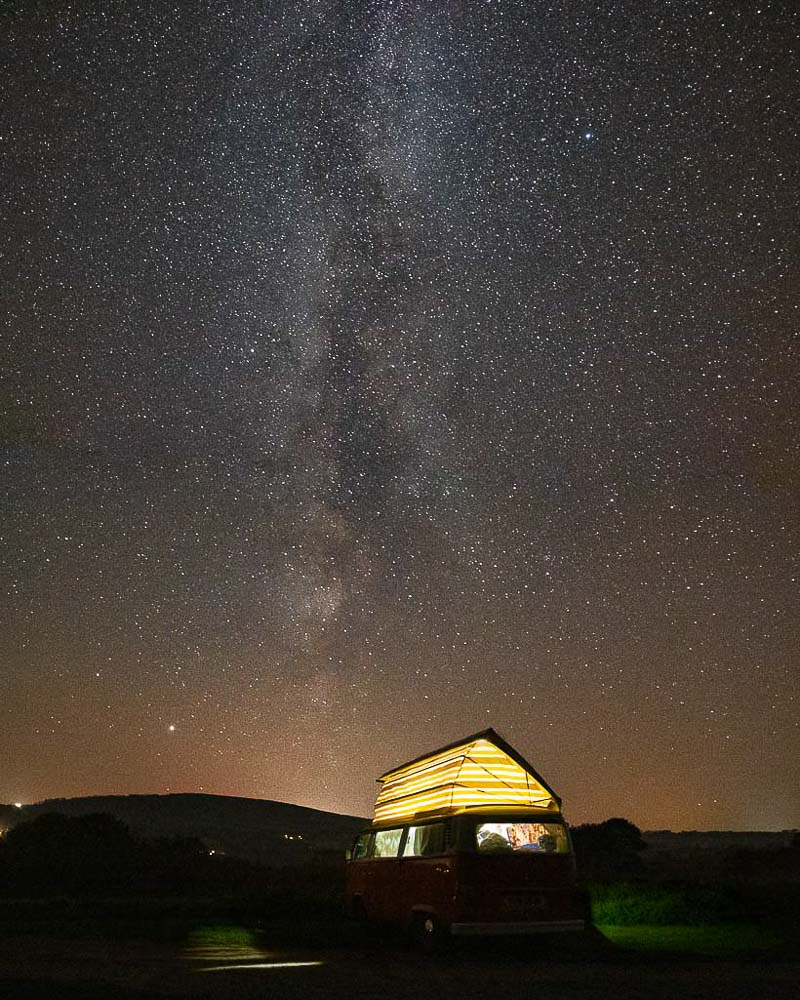 The biggest draw for us was just being away from it all. Their large grounds really gave a sense of escape and quiet, with a lack of light pollution that allowed for some of the best star gazing I have ever experienced in the U.K.
We also spent one night at Preseli Venture's campsite, which is onsite at their activity centre. We wanted to be a little closer to the action as we had a big day planned. And when I say closer to the action…
Things to Do on a Pembrokeshire Road Trip
Pembrokeshire Coasteering 
They say that Pembrokeshire is the birthplace of coasteering. I'm not sure who or how they figured that out, but let's run with it. 
Coasteering, for those who don't know, is a combination of activities that can all be done whilst playing around the coastline. There's some wild swimming, deep water solo climbing, scrambling, caving and of course, the main event: hurling yourself off of cliffs and into the water. Pembrokeshire Coast National Park is essentially the ultimate place to be doing all of those things.
If you are new to the area then it is of the upmost importance to go with a guided group. You don't know what's under the water and a lot of jump spots are only doable at a certain tide level. You can head out with the good folks at Preseli Venture for a wet and wild day out. And whilst we are at it, Preseli Venture will take groups out on all of the outdoor experiences mentioned. So just head their way for a one-stop shop of all things things adrenaline inducing. 
Sea Kayaking the Pembrokeshire Coast National Park 
If you call yourself a sea kayaker then this better be right at the top of your U.K. bucket list. I've wanted to paddle these waters for as long as I've been kayaking, so I was absolutely thrilled to have the opportunity to head out with Preseli Ventures. Our guide Sam was a local lad and very knowledgeable. He taught us a new term, 'pyroclastic splattering'. Which is where a distant volcano had erupted some millennia ago, blasting molten rocks into the cliffs, leaving odd canon ball shaped holes amongst the cliffs. It's safe to say the geology around this area is absolutely stunning. 
We were also blessed with not only pristine sea conditions and blue skies, but also seal pup season. There were too many to count, but 30-40 would be a fairly reserved guess. The pups lay on the rocks like fat little cocktail sausages, whilst the adults swam curiously around us. 
For some more sea kayak destination inspiration, check out my Sea Kayakers Bucket List.
Hiking Around Pembrokeshire 
Pembrokeshire is a fantastic choice for a walking holiday. The 186 mile Pembrokeshire Coast Path will certainly keep you busy. It links up a number of different towns (read: rest / coffee / tea / pub stops). Many people take it on a multi-day through hike as part of the larger trail. But there are many shorter, established hikes to be done within the area too:
Preseli Hills Rambling 
A ramble through the rolling Preseli Hills is a quintessential countryside stroll. 
Ramsey Island Nature Reserve Walk 
If seclusion is what you want, then the once home to 6th century hermit St Justinian is probably a good place to start. Ramsey Island is a nature reserve and absolutely teaming with wildlife. Peregrine falcons, razorbills, guillemots, amongst other things, can be seen here during the right time of year. You'll need to take a short boat ride to this nature reserve, where you'll be greeted by one of the only two residents on the island, who are the park wardens.   
Marloes Peninsula 
Arguably one of the most beautiful sections of the Pembrokeshire Coastal Path is the Marloes Peninsula walk. This circular walk will give you a glimpse of everything you'd want from a walk in Pembrokeshire, including an Iron Age fort, beach lookouts and all the wildlife you'd expect to see in this area. 
Puffin Watching at Skomer Island 
In order to protect the puffin colonies on Skomer Island, landing tickets are limited to just 250 people per day. During peak season these very quickly sell out, so be sure to get there early! You'll be able to collect tickets as well as find out any further information from Lockley Lodge. Another way to view the puffins is by boat, which can be arranged from the Dale Sea Safari from Pembrokeshire Islands. You may also get a chance to see the impressive gannet colonies as they dive bomb bait balls of fish! 
The main puffin season is between April and August, as they are migratory. If you can't catch those months, don't fret! There is still plenty of wonderful wildlife worth viewing around the islands, from birds to seals to porpoises. 
Go Rock Climbing Around the Pembrokeshire Coast 
Sea cliff climbing is a whole different ball game, even for the more experienced rock climbers amongst you. There are extra variants to consider in order to keep yourself safe. Such as: differing tide levels – meaning the belay area might not always be there; your rope could get wet (salt water is not good for gear), and of course the classic: 'if I abseil down there, can I definitely climb back up again?'
If you are a regular climber and have the right gear with you, then you will be in absolute sea cliff climbing heaven. There are ample spots to choose from, with the most spectacular views. We ended up at Initiation Slab near Caerfai Bay, after driving through St. Davids. This was a great place to get into it, as the slab is in a sort of inlet. This means you can walk around to the other side and see all the routes just as pictured in the guide book. Porthclais also gets an honourable mention, but we unfortunately did not get time to fit that one in. 
Sea cliff climbing can be super gnarly, it offers spectacular views and a really unique climbing style, but the set ups are definitely something for the more experienced climber folks. Get in touch with our friends at Preseli Venture, they can provide some great information and put you in touch with other local guides that would be more than happy to… show you the ropes.
Surf Spots Around Pembrokeshire 
There's over 50 beaches in Pembrokeshire, so if you want to escape the crowds then there is a good chance of achieving that. It's also an ideal place for surfing due to having beaches facing multiple directions. If there's a swell coming in, they'll be a place you can find it.
The surf is beginner to intermediate level most of the time, so it's a good place to get started or to hone your skills.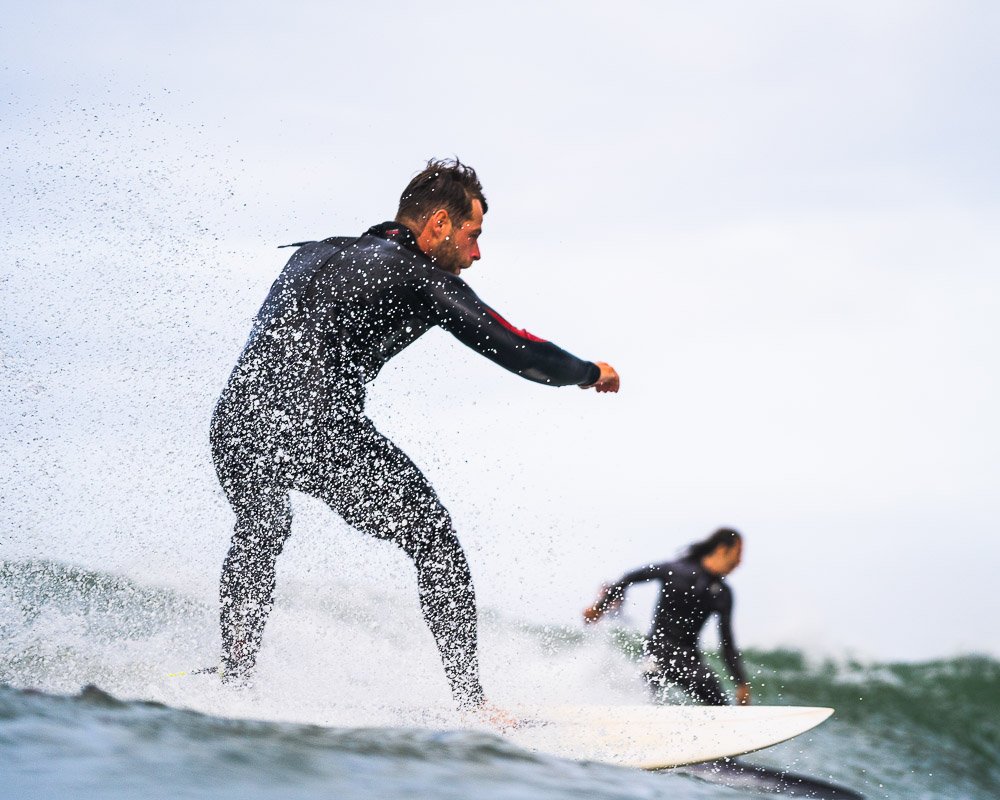 Whitesands is an amazing long stretch of beach, suitable for all levels and families. It can get crowded in peak summer times though. 
Newgale is a 2 mile sandy stretch with plenty of room for everyone. There's a large car park making it very accessible; life guards, surf school, the works. 
Freshwater West is known as one of the most consistent surf beaches in Wales. There's a regular onshore break as well as reef breaks. This is not for the inexperienced. Waves here are generally a little bigger than the other beaches around it, there's rocks and undercurrents to be wary of. Despite its isolated location, it can draw a crowd due to the bigger waves. 
The Best Thing to Do on a Pembrokeshire Road Trip?
Just drive! 
That's the whole point of it. Enjoy the open road. See where it takes you, find a fork in the road and chose the path that the sun shines on the most. 
That is my travelling style. Sure, have a couple things in mind that you really want to see or do. But the rest of it? Just wing it. Figure it out as you go.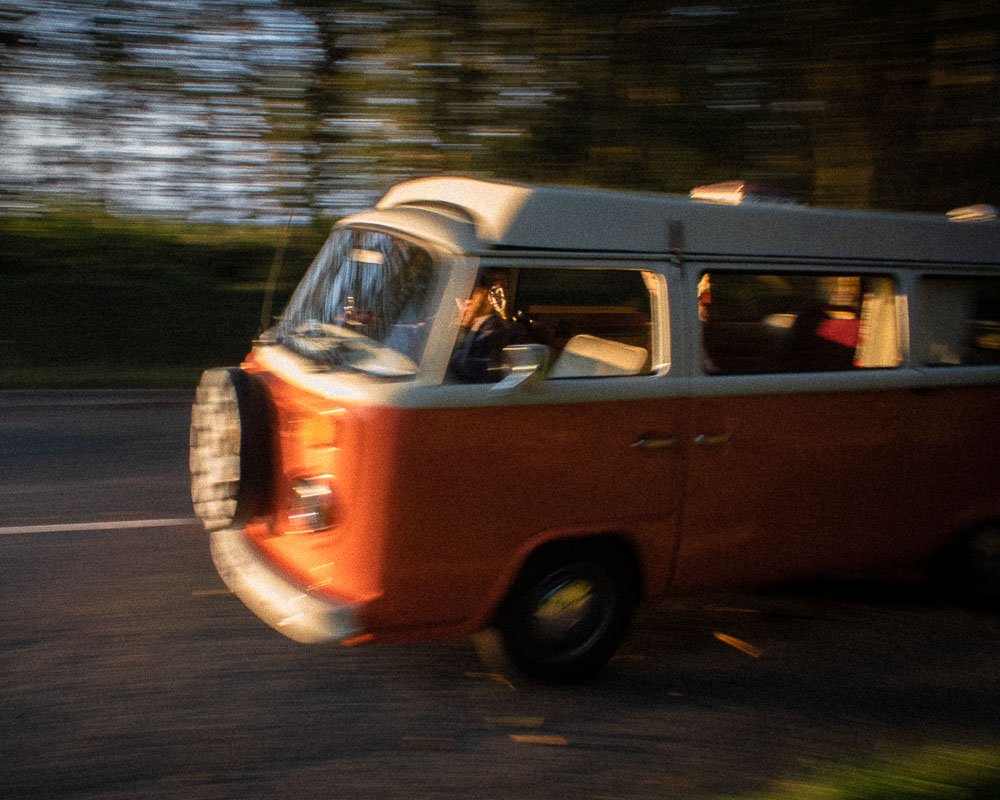 The country roads are so fun to drive down and you just never know where you might end up. That's how we found ourselves eating Preseli Hills ice-cream in St. Davids, the U.K.s smallest city! 
Enjoy the quaint fishing port of Tenby and Tenby Castle, or head up to Fishguard Lower Town, which is truly beautiful, with its multicoloured painted houses and old bridge over the estuary. 
That is the wonder of renting a camper van. You are free to go and do whatever it is you wish, in a fully self-sufficient vehicle – and don't forget to plug in 'Shenanigans-3c9c' for a discount, consider it my way of buying your first round of drinks. 
Head over to the On The Road section of the website for more top tips and travel hacks for all you current or future van lifers out there.
Have a great trip!