Time for the fun bit – building your Kilimanjaro Kit List and buying shiny new gear! 
This Kilimanjaro Kit List shall provide you with all the information necessary to set you up for your big trip.
I would recommend compiling your kit as early as possible. This gives you ample time to get the correct fit, highest quality and hopefully test it out in the field.
The more comfortable you are with your own gear the better.
The difference between enjoying the epic experience of a rainstorm or wishing you were at home tucked up in bed, all comes down to your gear. High quality equipment lasts a lifetime and you'll know you made the right choice when the rain starts pouring.
By following this Kilimanjaro Kit list, you can rest assured that you have everything needed for a summit attempt. No more, no less.
Bookmark this page and begin checking things off as you go. There is also an opportunity to rent gear in town or pick up anything else you may have missed, so don't fret too much if you can't get hold of something. 
As you go through the list, check out the 'recommended product' and then see if you already own something similar. The chances are you do. This will help keep your costs down. If you don't, then use the recommended product as a good starting point of what to look for and begin building your kit. 
The recommended products are close enough to what I take on Kilimanjaro hikes. If you are not a regular hiker and don't plan to be, save yourself some money where possible and rent gear if needed. 
There may be some affiliate links in the text. This means if you click the link then buy something, I will get a small commission. This doesn't affect your price and in fact it will usually end up cheaper as I can offer discount codes.
Click here to read the Ultimate Kilimanjaro Hiking Guide: Everything You Need to Know Before You Go!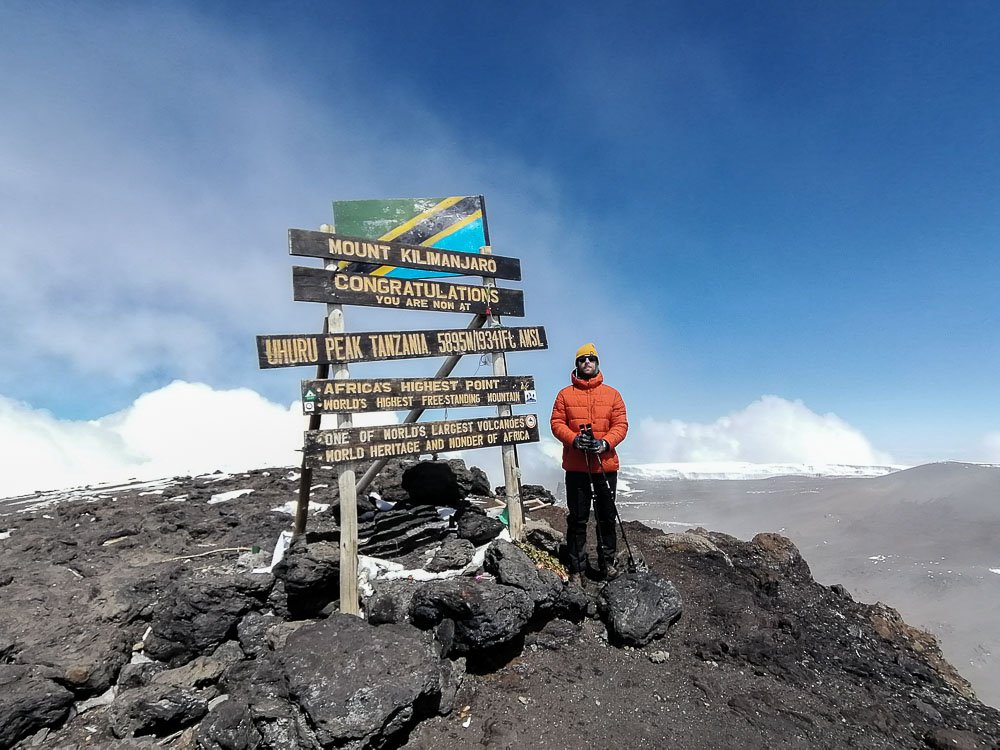 Before we get into the Kilimanjaro Kit List, there's some important information to know…
What's the Weather Like on Kilimanjaro?
Tanzania is a large country just south of the equator. This means for the Northern Hemisphere readers, the seasons are reversed.
As with all weather forecasts, nothing is guaranteed. But generally speaking the main rainy season or 'long rains' are from March – May. There is high humidity and regular downpours.
The long dry season is from June – October. Weather is often sunny with clear skies. In October, expect highs of 29°c with night time temperatures dropping to 16°c. 
November and December are the 'short rains', with sporadic downpours but not as heavy as the long rains. 
This is the average forecast for on the ground. As we increase in altitude, it will get much colder. The area of Kilimanjaro that is +5000m is called the Arctic Zone. It is cold, glacial and yes, it does snow in Africa. 
We will be experiencing almost every type of climate on earth. Starting from the African savannah, walking through montane forest, moorland, alpine desert and ending up in what is the equivalent climate of a ski resort. 
Check out the snow forecast for Kilimanjaro here, you can adjust the altitude using the bar on the left hand side.  
The Kilimanjaro Kit List
Bags
Porters will help move your main bag between campsites (as well as camping gear, kitchen equipment, food etc). This means all you need to carry whilst you hike are day time essentials. 
Main duffle bag

– large, waterproof duffel bag with straps 70-80L.
Recommended product: Berghaus 80L Holdall , The North Face Gilman Duffel 71L Duffel , Columbia Outdry Ex 80l
Daypack

– for carrying day time hiking essentials 30-50l. Must be able to fit: rain gear, water, snacks, lunch box, suncream, sunglasses, camera, etc.
Recommended product: Osprey Stratos 36l , Osprey Farpoint 40l , North Face Router 40l
Dry bags

– your waterproof duffel isn't always as waterproof as you may think.
Also, due to the extreme humidity and climate variations, a lot of moisture can build. It's best to put your clothes into different coloured dry bags to help you organise and keep everything dry. You can also use a larger one to put wet/used clothes, smaller ones for electronics. Organisation is key, you can never have too many dry bags.
Recommended product: Any of these or Lomo 3 Pack
Backpack rain cover

– some bags come with them included, so check first.
Recommended product: Osprey Ultralight Raincover 30-50l , Deuter Raincover , Unigear Backpack Raincover
Extra non-mountain stuff bag

– clothing you'd like before or after the hike.
This can be left behind either with your tour company or a hotel if you plan on returning.  Some clean clothes for your safari might be a good idea.
Clothing 
Head
Warm beanie
Wide brimmed hat or cap
Recommended product: Any of these , Quicksilver Bushmaster
Buff

– the funkier the pattern, the better.
Recommended product: Any of these , buff
Balaclava – for summit night. Protects from the cold winds.
Recommended product: AXBXCX Balaclava
Polarised sunglasses – essential, especially for summit night as the UV reflects off of the snow.
Any pair of polarised sunglasses will do. But if you really want to look the part…
Recommended product: Julbo Explorer Mountain Sunglasses , Bertoni Glacier Sunglasses
Top Half
All about layers. Easy to remove, easy to add, pack down well into a bag. Quick drying, wicking material is best. Do not bring cotton – it absorbs moisture and becomes heavy, taking forever to dry.  
Due to the cold temperatures at elevation, it can be difficult to dry things out once they are wet. 
2 Base layers

– long sleeved thermal top.
Merino wool is great as it has wicking properties, keeps you warm or keeps you cool.

Recommended product: Mens – North Ridge Convect 200 Merino Top , Icebreaker 175 Everyday Long Sleeve Half Zip , Meriwool Baselayer . Womens – North Ridge Convect 200 Merino Top, Icebreaker 175 Everyday Long Sleeve , Meriwool Baselayer
2-3 Tops

– short or long sleeve shirts. 
Recommended product: Mens – North Ridge Peak Merino T-Shirt , Craghoppers Nosilife Bayame , Columbia Meeker Peak. Womens – Montane Dart T-Shirt , Craghoppers Nosilife Erin , Under Armour Tech Shirt
Fleece or warm layer

– one light, one thick.
Recommended product: Mens – Craghoppers Peri Hooded Jacket , Berghaus Bampton 3.0 Fleece , Columbia Steen's Mountain Half-Zip. Womens – Craghoppers Mannix Jacket , OEX Igneous Stretch 250 Fleece , Columbia Benton Springs Fleece
Insulated down jacket / warm 

coat

 

– for summit night and evenings when the temperature drops and you stop moving.
Down jackets are great, the warmer the better.
Recommended product: Mens – Craghoppers Nordwood Jacket , Mountain Equipment Lightline Down Jacket , Marmot Guide's Winter Puffer.  Womens – North Ridge Tech Down Jacket , Rab Valiance Down Jacket , Columbia Peak Park Insulated Coat
Waterproof jacket

– large enough to fit on top of all your other layers.
GORE TEX is 100% reliable waterproof, but is expensive. So the choice is yours. Breathable is good too.
Recommended product: Mens – Berghaus Maitland GORE TEX , Craghoppers Trelawney. Womens – Rab Arc Waterproof , Berghaus Glissade Interactive GORE TEX
X2 Gloves

– a thin pair for wind and thick pair for cold.
Recommended product: Any of these , thin pair , Burton Baker Gloves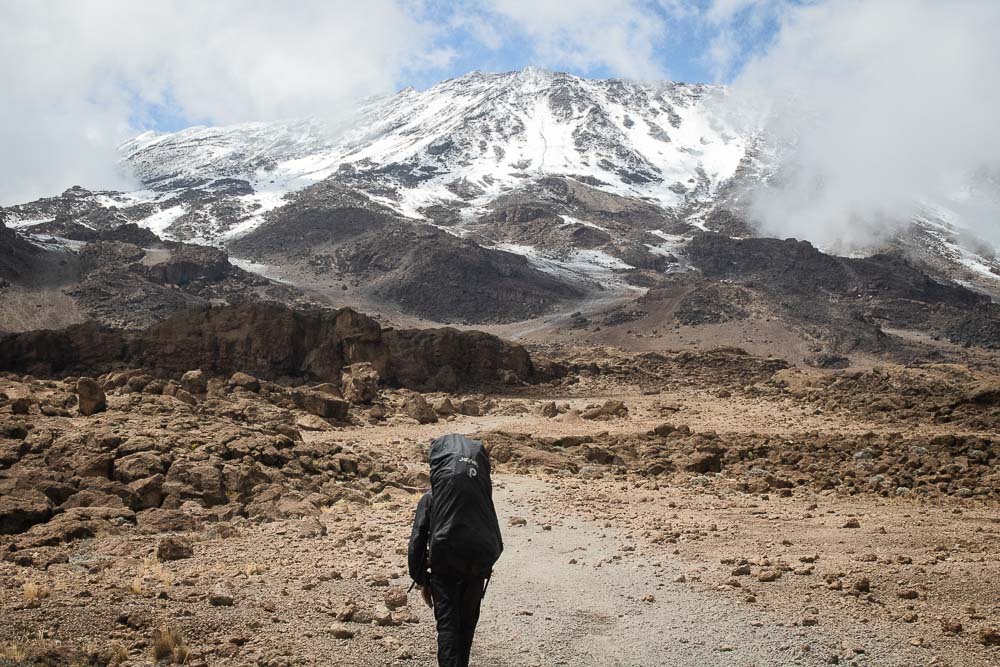 Bottom Half
Underwear

– pack your lucky pants. Sports bras for comfort
Hiking socks

– varied thicknesses.
1 pair for every 2 days is a good estimate, although some people prefer the sweet morale boost of fresh socks everyday. Make sure they are higher up your leg than the top of your hiking boots and you save a fresh pair for summit night.
Recommended product: Any of these or Meriwool   
Shorts – useful for the first and last day. 
Recommended product: Mens – Craghoppers NosiLife Cargo Shorts , Columbia Silver Ridge Cargo Shorts. Women's – Brasher Stretch Shorts , Vayager Cargo Shorts
Trousers/leggings

– lightweight hiking trousers or sports leggings.
Recommended product: Mens – Craghoppers NosiLife Pro Adventure Trousers , Fjallraven Vidda Pro. Women's – Craghoppers NosiLife Pro Trousers , Oex Women's Technical Leggings , Colorfulkoala Leggings
Fleece lined pants

– thicker, warm trousers for the evenings.
Joggers / insulated trackies are good too.
Recommend products: Mens – Craghoppers Kiwi Winter Lined Trousers. Womens – Hi Tec Fleece Pants , Baleaf Insulate Soft Shell 
Long johns

– Merino wool is always great, but expensive.
Recommended product: Freedom Trail Thermal Baselayer (unisex) Meriwool (mens) , Minus33 (women's)
Waterproof trousers

– expensive trousers can last multiple days of rainstorms, cheaper ones just a few hours.
Having a long side zip is really great in order to put them on over your trousers without taking off your hiking boots.
Recommended product: More affordable Oex Arimo Waterproof Overtrousers (unisex) Mens – Berghaus Maitland GORE TEX , Marmot PreClip Waterproof Pants. Womens – Berghaus Maitland GORE TEX , Columbia Storm Surge
Feet
Hiking boots –

comfort is key.
Try them on in store, if you must buy online, consider going 0.5 or 1 size larger than normal to make room for hiking socks and foot swelling from elevation. A good test is to put your foot in whilst the boots are unlaced and slide your toes all the way to the end. You should be able to put your index finger down the back of the heel without too much of a squeeze or too much room either side. Then move your heel back and lace up. You should be able to walk downhill without your toes squishing into the front. 
Boots must be warm, comfortable and waterproof. Leather or synthetic, all down to personal preference as everyone has different shape feet.
Recommended product: Mens – Scarpa Terra II GTX , Scarpa Mistral II GTX. Womens – Mammut T Aenergy High GTX , Salomon X Ultra Mid 3 GTX
Trainers –

something small and comfortable for around camp to give your feet a rest.
Sleeping
Sleeping bag –

4 season sleeping bag to stay warm.
If you will be hiking / camping semi-regularly in winter, then down is a worthy investment. If you camp once a year or so, then synthetic or even renting may be better. Renting a sleeping bag in town costs approx. $30. Remember to check the size!
Recommended product: Down – Oex Leviathan EV 900 , Hyke & Byke Eolus. Synthetic – Latitude Pro 300
Sleeping bag liner –

this is a sheet that goes inside of it, to keep it clean and give an extra layer of warmth and comfort.
Recommended product: Any of these or this.
Sleeping mat –

a blow up air mat is far superior to a roll mat/ yoga mat type thing.
More comfort and warmth as it keeps you further off the ground.
Recommended product: Thermarest ProLite, Berghaus Peak , Powerlix Sleeping Pad 
Toiletries
Toilet paper –

essential for any travelling anywhere.
Toothbrush, paste and brush holder –

leave the electric one at home.
The brush holder helps keep it clean.
Recommended product: Bamboo Toothbrush , Bamboo Brushholder 
Soap and soap holder –

again, soap holder keeps it clean.
There are cold showers and some tour providers offer daily hot water for washing. Recommended product: Save Our Seas Eco Soap , Soap Dish
Facial moisturiser – 

for the cold, dry wind.
Sun Cream –

SPF 50 for your face.
This is not the time to be worried about getting a tan. 
Lip balm – H

elps with the wind. Find one with SPF protection or Vaseline. 
Wet wipes –

it's a shower in a bag! 
Deodorant –

small roll on.
Sanitary products – A

lthough sanitary towels are easy to come by in country, tampons not so much.
I'd suggest getting your preferred method beforehand.
Medical Supplies / First Aid 
If you join a Global Shenanigans Expedition, we will have a team of expert local guides leading us up the mountain. Their highest priority is to ensure your safety and they will have a full emergency first aid kit, oxygen and equipment. On top of that, Chris is a certified Wilderness First Responder and will be on hand at all times to help with any medical issues. That being said, nobody knows your body better than you do, so it is important you take responsibility for your own health and wellbeing whilst on the mountain. 
It may be a good idea to bring some FA basics along with you such as:
Medications – headaches are the most common symptom of altitude.
Ibuprofen, Paracetamol, Nurofen, diarrhoea tablets – whatever you would use at home.
First Aid Kit –

a small kit with some basics.
Various size plasters, blister plasters, antiseptic wipe, rehydration sachets, tweezers, medications
Recommended product: Traveler First Aid Kits , Pricare Mini First Aid Kit. Take out what you don't need and add in relevant extras. 
Hand sanitiser – '

travellers tummy' is a serious concern and the best way to avoid it is to keep the utmost hygiene.
Malaria tablets –

 prices vary depending on how long before / after the trip you need to take them. 
Mosquito repellent –

DEET is powerful, so much so that it can corrode synthetic materials such as tents and is bad for your skin.
I'd recommend going natural whenever possible.
Recommended product: Smidge Insect Repellent , Repel Plant Based Repellent
Electronics
Headtorch –

essential.
Prices vary depending on different light options. Red light is a good feature in order to preserve night vision. Bring spare batteries. Recommended product: Petzl Actik , Petzel Actik on Amazon
Camera –

this is a trip you don't want to forget.
The quality of phone cameras is so high nowadays that you could make do with that, but be sure to bring something that will keep it charged! Top tip: keep your phone and camera battery in your sleeping bag at night to stop the cold draining it.
Power adapters –

most of Tanzania uses UK style plug sockets.
Marangu Route has some places to charge.
Music & headphones –

motivational music or podcasts/audiobooks for the evening.
Use ear buds, not studio headphones.
E-reader / kindle –

There will be some down time at camp. 
Power bank –

You want to ensure your phone battery also makes it to the summit.
I've been using the Anker power bank for years for multi day expeditions and will keep my phone juiced up for over a week. I spent 5 days on Kili and still had 75% charge left.
Recommended product: Anker Powercore
Spare batteries –

for your head torch.
Mobile phone – f

or photos and music.
Miscellaneous Kilimanjaro Kit
Water bottle –

bring 3 litres.
Recommended product: Nalgene. Camelbak Hydration Pouch is also worth a consideration so you can sip on the move. The thermal adapter might be worth the investment so the tube doesn't freeze. 
Water purification tablets 
Recommended product: Highlander Aquaclear
Walking poles –

helps support your knees.
Really beneficial. Can be rented in town if you have no future use for them.
Recommended product: Any of these , Foxelli Carbon Fibre Poles
Ear plugs / eye mask –

getting a good rest is vital.
If you're a light sleeper like me, then bring these along to make life a little easier.
Snack bars –

protein bars, energy bars, trail mix.
Recommended product: Cliff Builders Protein Bar
Towel –

small, microfibre towel.
Recommended product: Lifeventure SoftFibre , Youphoria Outdoors Towel
Hand / foot warmer –

these small heat pouches are super cheap and work really well.
Recommended product: HotHands
Paperwork
Passport – c

heck that it is in date!
You want it to be valid for at least 6 months after your return date and have 2 blank pages
Flight tickets (save email confirmation on phone) 
Insurance –

save copy to phone or print off.
Here's some information about choosing the best adventure insurance.
Recommended product: battleface – note, if you book battleface insurance, please email them with the heading Global Shenanigans Expedition. This is to ensure the special coverage for +4,500m elevation. 
Visa –

you can apply for your visa beforehand from the Tanzanian High Commission or get one on arrival, depending on your nationality.
You'll need to bring USD to pay for it. 
Yellow Fever Certificate –

can be necessary depending on where you are coming from or transiting through. Check online.
Money
Money in Tanzania is a little tricky as their local currency, the Tanzania Shilling, can only be obtained in Tanzania. It is best to bring with you USD and your bank cards (remember to tell your bank where you're going!).
Please note that it is customary to tip your local team, so bring cash. A suggestion is: Porter $8-10 per day, cook $15-20 per day, guide $20 per day. This is can be split amongst your whole group. Depending on group size, there could be at least 1-2 porters per walker. Guides for small groups are 1:1, groups of 10 walkers can need 5-6 guides. Tipping is entirely down to your personal feelings on service. It is always viewed as a bonus gift. Overall it is down to how you feel.
Some general advice on money: 
Always be discreet. Never open your wallet and count notes publicly.
Keep larger bills hidden. If you are haggling for an item, you don't want the vendor to see your wad of cash at the back of your wallet. Put small bills at the front so the big bucks stay out of sight, or even in a different pocket of your bag.
Never have all your money/cards in the same place. If all your money and cards are in one wallet or bag and you lose it, then it's game over. Keep some cash for the day on you and leave a spare bank card somewhere else in a different bag.
Final Thoughts for Your Kilimanjaro Kit List
There is a lot of information here in the Kilimanjaro Kit List. Please read through it a few times to make sure you don't miss anything. It will help streamline your packing process as you now know exactly what to take, and what not to take!
If you were interested in joining a Global Shenanigans Kilimanjaro Expedition, you can follow this link right here to find more information. You'll find the details of each expedition, dates, prices and anything else you'd need to know. See you at the top!